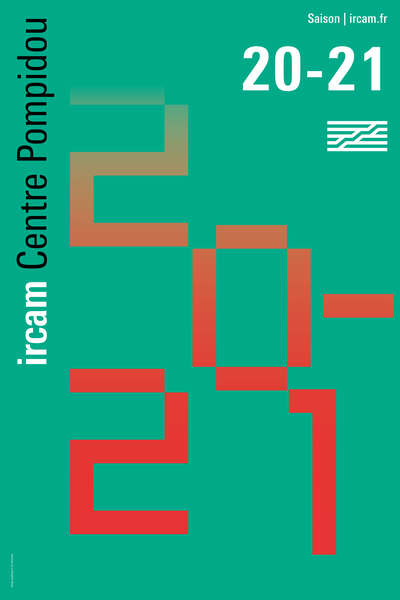 Inaugurated by the ManiFeste festival in September 2020, IRCAM's new season focuses on the vitality of emergent creation and the strength of a repertoire that now covers a broad national and international audience.  10 years after its premiere at La Scala in Milan, Luca Francesconi's Quartett electrifies the stage of the Berlin Staatsoper under the baton of Daniel Barenboim. 25 years after the creation of the Metropolis film-concert by Fritz Lang and Martin Matalon and its numerous revivals, the Paris Orchestra creates the new version for the restored copy of this cult film. 40 years after its birth through successive growths, Répons, Pierre Boulez's seminal "œuvre-spirale", (lit. spiral-work) returns to the Philharmonie de Paris for the biennial devoted to the founder of IRCAM.

Ever changing, and therefore faithful to its original concept, the IRCAM of 2020 readily practices cultural and aesthetic divergences, with the support of its closest allies: historical partners such as the Centre Pompidou and Ensemble intercontemporain, or more recently the Théâtre de Gennevilliers. A season in which Bartabas's latest solo - the horse, source of the entire sound landscape - and the prototype created by improviser Bernhard Lang coexist through language games and combinations. The first work for piano and electronics by Yan Maresz and Gaspard de la Nuit by Ravel; Kaija Saariaho's vocal night and Stefano Gervasoni's "lessons of darkness", a pronounced taste for emerging works (Giulia Lorusso with the ensemble C Barré and an online system), and the work of memory.

More than ever, IRCAM is asserting itself as a unique network with ramifications in research and creation sites, a "world-network" of singularities, not just of massification, which is the subject of an exhibition at the Centre Pompidou and of the Forum Vertigo encounters, developed with the Culture and Creation Department. Evidence of this network's relevance are IRCAM's relations with Taipei and its cultural laboratory in the heart of the city, with New York during the "Nuit des idées", with Georgia Tech in Atlanta, with Montreal and McGill University, with Germany and its art festivals in Witten, Stuttgart, and Berlin.  At a time when the health crisis is shaking up our cultural habits, in research, education, and distance productions, at a time when the lexicon of survival tends to replace that of life, our primary missions - the deliberation and innovation of research, the impact of innovation with IRCAM Amplify, the whetted appetite for creation - are part of a common spirit not to be assigned to close quarters.
Frank Madlener, IRCAM Director