"I am in blood" for Sixteen Musicians and Live Electronics
Edit
Interview with composer Carmine-Emanuele Cella
Edit
Acoustic Suffication - Artistic Issues
I am in blood is rooted in some of the most dramatic events that took place in 2020: the Covid lockdowns, but also police violence in the United States, in particular the racist killings by police including the killing of George Floyd. The death of the latter provoked a series of riots which, in turn, pushed the authorities of certain regions to institute martial law - notably that of the San Francisco Bay Area where Carmine-Emanuele Cella was living at the time.
Carmine-Emanuele Cella has been working for nearly a decade on a hic et nunc composition "music that cannot be performed in any other place and at any other time than those for which it was conceived."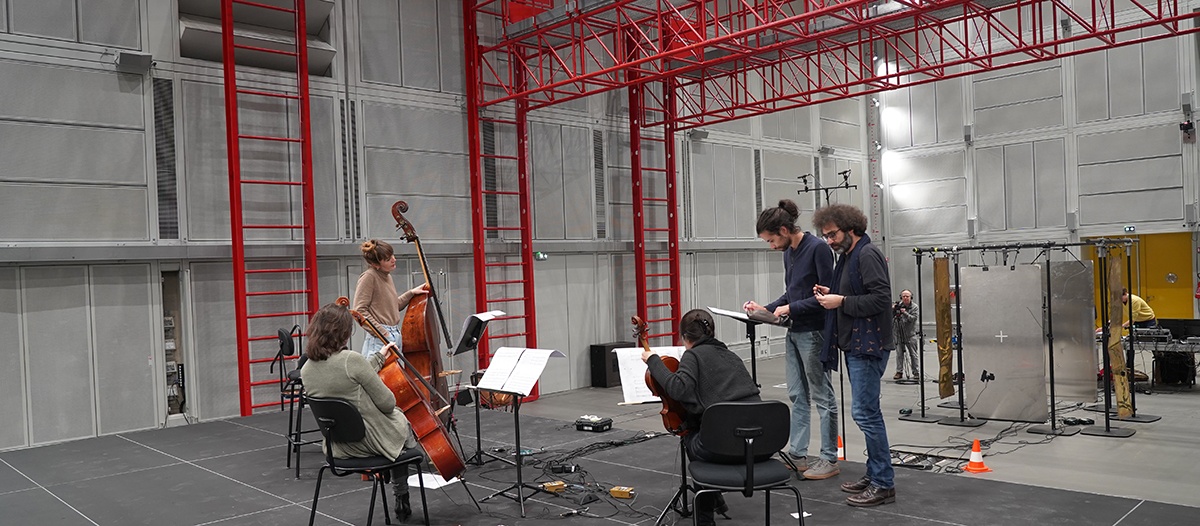 Carmine-Emanuele Cella in repetition with the ensemble L'Itinéraire and the conductor Léo Margue, at the Espace de projection © IRCAM-Centre Pompidou, photo: Déborah Lopatin
This has naturally led him to reflect on the presence and the place of the audience. The idea is to create the conditions for "integral listening" in order to truly "experience" the music.
In many respects, I am in blood is an attempt to recreate an acoustic context that would make the audience experience the feelings of confinement and, even more, a feeling of suffocation like that experienced by George Floyd during ten long minutes of suffering under the knee of Derek Chauvin.
It is also music that questions Chauvin's murderous behavior: why didn't he stop? Didn't he realize the irreparable act he was committing? Why did he stay that way for so long? Did he think that he was already too involved, too compromised, to back down? Was he, for his part, too locked into his own behavior, into his own actions and thoughts, to the point of not being able to see what he was doing? What about us? Are we, too, too compromised by this society to be able to back down?
A New Paradigme for Spatialization - Technological Issues
I am in blood is fully in line with Carmine-Emanuele Cella's approach to "hic et nunc" music. A musical concept in which the spatial dimension is crucial - as each work is designed specifically for the space in which it must be heard. Let us note in passing that the cycle of works in which Carmine-Emanuele Cella developed this reflection is entitled Les espaces physiques - the reference to Grisey's Espaces acoustiques aside, this title clearly signifies the importance of the physicality, even the carnality, of the experience proposed to the public.
In this case, in I am in blood, the musicians and augmented instruments are placed all around the audience, even above it. Thunder plates, set in vibration by transducers via electronics (sometimes by the musicians themselves) form like a house of cards, which threatens to collapse at any moment. "These are all these swords of Damocles hanging over the heads of the audience," noted the composer.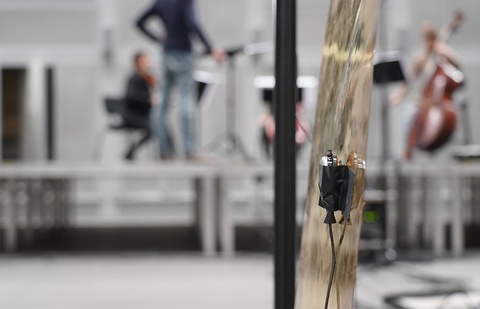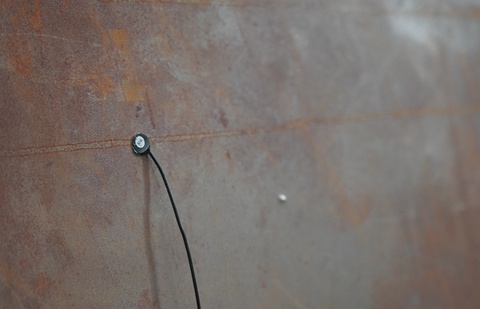 Repetition at the Espace de projection, thunder plates with electronic system © IRCAM-Centre Pompidou, photo: Déborah Lopatin
Given that the piece will be premiered in IRCAM's Espace de projection, which is, as we know, equipped with a unique ambisonic dome (made up of over 300 loudspeakers), the composer is able to delve even further into his musical concept of space.
"I have known the physical principles and technique of Ambisonics for a long time now. But I had never worked with it before as a composer. Spatialization has always been a sensitive issue for me, and since I'm not sold on the virtuality of space, I've always preferred the real (the physical) to the virtual."
"However, with I am in blood, I wanted to work on another vision of spatialization, with the coexistence of multiple sound spaces in the same place - an idea conducive to the use of Ambisonics. The musicians are arranged in three dimensions around the audience and the ambisonic diffusion also allows to simulate a space in three dimensions. Of course, the idea is to have a dialogue between the two. I try to distribute them in several spaces, sometimes moving, including physically impossible spaces."
"Impossible spaces, what are they? These are, for example, unrelated spaces: I can play the beginning of a sound in one region of this space and the end in another, at the other end of the room, which is not 'physically' connected to it. In this way, I work across multiple fluid spaces."
Regarding his own use of the Ambisonics, Carmine-Emanuele Cella tries as much as possible to detach himself from any preconceived ideas: "My feeling, generally speaking, is that a computer music tool such as Ambisonics is just that: a tool. To use it requires the development of a compositional theory of space, in order to determine the spatial paradigm at work in the piece, and then make the tool conform to this paradigm. That's why I'm currently toying with the idea of extending Orchidea (computer-assisted orchestration) software to spatialization, to do computer-assisted spatialization."
"In this case, Ambisonics is an encoding system. Even if the tool itself (the way it has been conceived and used so far) presupposes a writing paradigm, it is not in itself a writing of space. I am more interested in the physical aspect of spatialization: immersing the audience in a place that acts on their perceptions. The writing depends on the space. Space is an integral part of listening - it can be a parameter of counterpoint, of polyphony, of timbre... That is to say that timbre is "realized" by the space in which it unfolds."
Carmine-Emanuele Cella in repetition at the Espace de projection © IRCAM-Centre Pompidou, photo: Déborah Lopatin

Past Projects at IRCAM 
2013 – Reflets de l'ombre, for orchestra and live, 15 mn to 18 mn, Suvini Zerboni
2016-2017 – Inside-out, for piano, three percussionnists, and electronics, 19 mn, Suvini Zerboni
2019 – Atlas, a sound cartography of Europe, work composed in assocation Dimitris Kamarotos and Valerio Tricoli.
Edit
Listen to: Carmine-Emanuele Cella
---
Carmine-Emanuele Cella
Composer Carmine-Emanuele Cella explores the poetic relationship between the structured world of mathematics and the chaotic world of artistic expression. His music is not based on melodies, chords, or rhythms but on writing the sound itself. Each note a…