Lucie Antunes in studio
Edit
Interview with artist Lucie Antunes
Edit
Going Straight to the Essential - Artistic Issues
Trained at the CNSMD in Lyon, Lucie Antunes knows Ircam extremely well; both its reputation on the contemporary music scene and in the field of scientific research. An excellence that has attracted her for a long time. Evolving in the so-called "contemporary music" universe, the tools that the young drummer and percussionist uses in her electro music practice are certainly not those developed at IRCAM. She admits that she favors "an intuitive approach" to computer music. This residency at IRCAM nevertheless seems natural for her, given her background and her technological and artistic aspirations.
Launched in the fall, this collaboration also comes at a turning point in her approach to writing, as the composer has recently embraced a broad effort to decomplexify.
In her first album entitled Sergueï in 2019 (on INFINE and CRYBABY), certain sounds, certain textures, were the result of associations of multiple instruments, as varied as the marimba or the Ondes Martenot.
"Some pieces were made up of a stack of more than 200 tracks!" says Lucie Antunes. "I wanted to see if this complexity might hide some gaps in the composition itself. I needed to find a form of purification, to use less material, to look for different colors, with work on the voices, on more 'club' colors, and above all on a greater readability of the speech. These are also shorter tracks, about 3 minutes instead of 10 minutes in the first album. In short, I needed to empty the suitcase and go to the essential. I've been at it for two years now and every time I listen to these songs again, it feels good."
The result is Carnaval, a second album (to be released next April, also on INFINE and CRYBABY) fed by the liberating spirit of this peculiar celebration, whose main purpose is to overthrow social norms and hierarchies. Lucie Antunes uses instruments, sometimes rudimentary, that are heard in carnivals all over the world - gongs, whistles, percussion of all kinds, voices and shouts, mixed with textures borrowed from Meredith Monk. But, she points out, "it is a 2023 carnival. It is also a carnival of modernity".
Taking the Lid Off - Technological Issues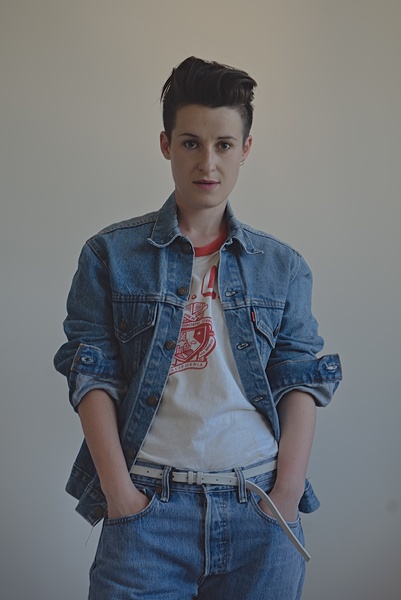 Taking the lid off is also, literally, what Lucie Antunes came to do at IRCAM. Although the music has already been written, and the album is already in the can, the tour is yet to come. A tour that, as it stands, would have required cumbersome logistics, since this music is intended for a rich and varied instrumentarium: vibraphone, marimba, gongs, tubular bells, and many others... . "In concert, this means a lot of material and heavy lifting," she says, "and that's not very pleasant in everyday life. Synthesizers make it possible to travel lighter. The problem is that, in their current form, they do not allow for the instrumental gesture and at the same time richness of the timbre."
So the idea is to make electronic instruments that control synthesizers, but in such a way that the musician can experience the sensations she has with acoustic instruments.
"I want to keep the gesture of a percussionist, with all the variety of playing styles that this implies. For example, we worked on a MIDI marimba, first to refine the rendering of attacks and dynamics, and then to control other types of instrumental samples that are part of my instrument set. This means sampling these instruments, but also associating them with the corresponding gesture, so that the synthesizer can produce the desired sound. Like a trompe-l'oreille. In the future, we may go towards the synthesis of other sounds even if, personally, hearing an organ triggered by a percussion gesture confuses me a little: I'm not very keen on it."
It is also up to the researchers at IRCAM to make these new instruments more ergonomic.
"I'm a performer," says Lucie Antunes. "I'm not a geek, contrary to popular belief. To compose, I use technological tools, but I don't write code. With the scientists at IRCAM, we're going to make these new instruments easier to handle, like acoustic instruments."
Lucie Antunes © Marco Dos Santos
Edit
---
Lucie Antunes
Musician, performer, artistic and stage director, Lucie Antunes has been passionate about music since childhood. After receiving several conservatory prizes, she enrolled at the CNSMD in Lyon. With a classical and contemporary background, in 2013 she tur…