Interview with Murcof (Fernando Corona)
Edit
Making Video Games Your Own - Artistic Issues
The Twin Color project is part of a long-term collaboration between the electro music artist Murcof and the visual artist Simon Geilfus, which began over a decade ago. By the end of their previous joint project in the mid-2010s, the two men were already toying with the idea of incorporating a game engine into their work - a set of software components used by video games for their geometric and physical calculations, in order to simulate, in real-time, the flexibility and fluidity of the imaginary world in which the action takes place.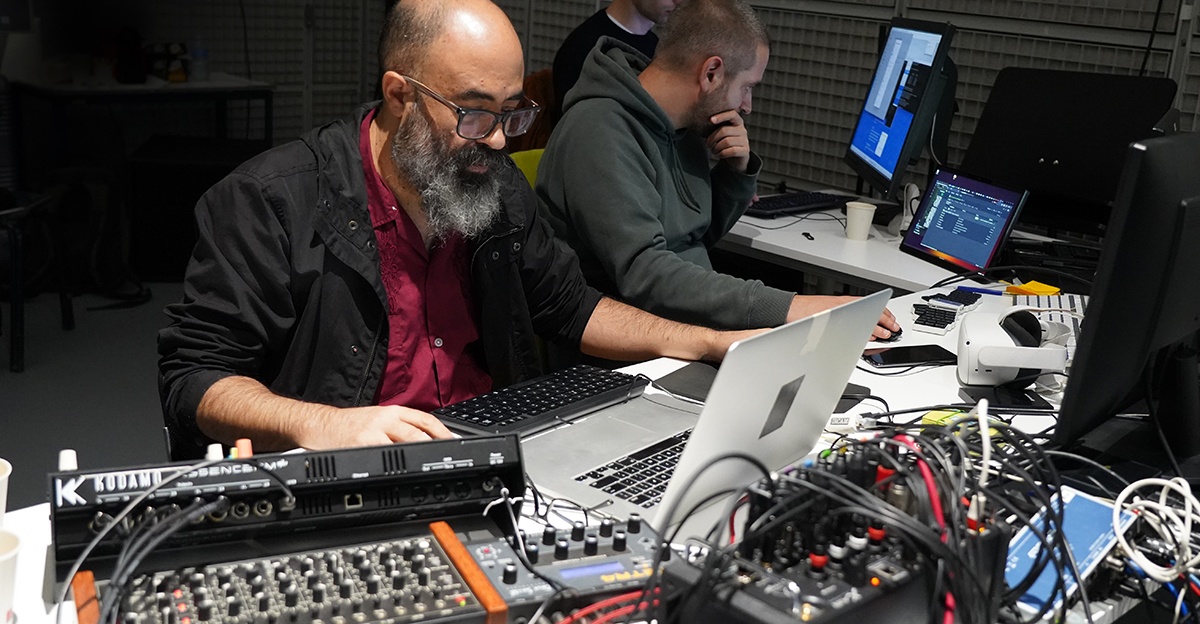 Murcof et Simon Geilfus en studio à l'Ircam © Ircam-Centre Pompidou
"At the time, we were already experimenting with a game engine that Simon was developing personally," recalls Murcof, "but it didn't work out. Simon then moved to the United States. As for me, I got caught up in other projects, and we left it at that."
That was until the links forged with IRCAM by the Infine label, which has been following Murcof since 2009, gave the duo the opportunity to explore the subject once again. "Simon and I had been talking again for about a year, and we were thinking of collaborating again, picking up where we left off. The groundwork had already been laid, so it was just a matter of getting things back on track and starting to work concretely."
"Artistically speaking, the concept is simple: we aspire to create a dynamic, reactive world, brought about by processes implemented in the open-source 3D image-generation software 'Unreal Engine'. This world consists mainly of nature-based biomes, such as forests, fields, etc., which are intrinsically linked and interconnected with the music. Within these environments, all kinds of phenomena occur, in a science-fiction atmosphere inspired in part by the works of Simon Stalenhad, David Lynch, and a few others."
The integration of Unreal Engine into the software mix used by the duo inevitably goes hand in hand with a reflection on the spatialization of sound - so that not only the musical discourse, but more broadly sound, matches the 3D evolutions of the images generated. This project, which will find its first incarnation in the Espace de projection on November 30 and December 1, is destined to continue and evolve over time.
Compatibility, Fluidity and Spatialization - Technological Challenges
Although this Twin Color project is Murcof's first at IRCAM, the tools developed in the basement of Place Stravinsky are not foreign to him. "In the past," he says, "I ventured briefly into Max, for example, for an album produced under another alias, Terrestre, entitled Secondary Inspection (2003). Later, in the late 2010s, I used Trax and Verb for sound design. For the past few months, I've also been delving into sound synthesis and voice processing tools."
For the time being, however, the bulk of his work is done on Ableton Live. "I tend to rely mainly on Ableton Live's native audio and MIDI, as well as on the Max For Live tools and other effects within Live for everything to do with sound design, to eliminate any possibility of incompatibility from one system to another."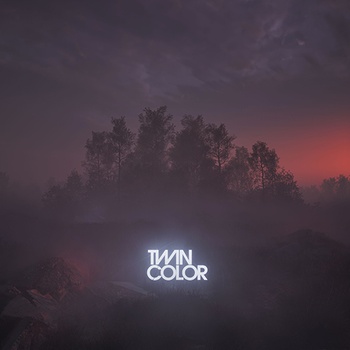 For this project in particular, the need to think in terms of spatialization in real time, and in conjunction with the images generated by Unreal Engine, meant that two Live sessions had to be run simultaneously: one mainly for purely musical work, and the other for the sound environment (wind, rain, thunder, etc.) - which is directly linked to the music. This second Live session receives data from Unreal Engine, such as the position and movements of the camera, in order to correctly redirect the sounds produced in the space where the performance is taking place.
And therein lie the two main challenges of working at IRCAM: making the whole system work dynamically with Spat and the Espro sound diffusion systems. "Lately, I've been familiarizing myself with Spat/Panoramix on a daily basis in my personal studio, experimenting with automation and spatialization in preparation for live performances, but the contribution of the scientists and technicians at IRCAM is essential. They design the tools we need to ensure that sounds reach their destination, and that they do so on time. I work mainly with Pierre Carré, configuring Max to control automation and spatialization, as well as reverb parameters and dynamic sound routing within Spat in real time. The two Live sessions running concurrently communicate extensively with each other via MIDI/OSC, but also with Metasounds, Unreal Engine and the various synthesizers. So, tools had to be implemented specifically for this purpose, whether by Simon or Pierre."
"On the other hand, sound engineer Clément Cerles is helping me accurately transpose everything we imagine with Spat into the Espro's diffusion setup - because our show will use three different system configurations simultaneously: the 7th-order Ambisonics 3D dome, a ring of 12 2D loudspeakers encircling the space, and a classic front diffusion setup for the most powerful and percussive sounds."
"I think adjustments will still be needed up to 10 minutes before the actual performance," concludes Murcof!
Edit
---
Fernando Corona
Born in Tijuana (Mexico), Fernando Corona was a member of the electro collective Nortec under the alias Terrestre for a time, before making a name for himself as Murcof. His music is electronic, uncluttered, minimalist. Built on abstract and sometimes co…