Vimala Pons in studio
Edit
Interview with artist Vimala Pons
Edit
The Mask and the Lie - Artistic Issues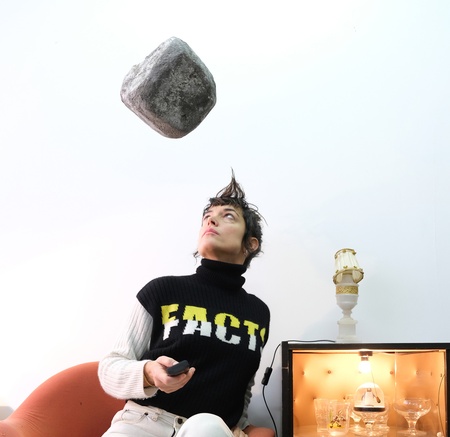 A cosmopolitan spa.
An anonymous room.
A dead body.
Seven witnesses who are all suspects.
In short: all the ingredients of a good thriller.
But this would be to misjudge Vimala Pons: revisiting the well-known Rashomon effect (Akira Kurosawa's film made in 1950), the unclassifiable performer blurs the leads, sows confusion, and plays with a true/false reality/artifice - and, all things considered, isn't this the artist's primary profession? Besides, how much do our lies make up our personality? How, then, can we deconstruct them without destroying our identity at the same time?
Is the Périmètre de Denver(lit. The Denver Perimeter) really, as announced in the show's publicity, a psychological concept designating "a space of uncertainty created by a lie"? Would the "Denver Perimeter" be one?
Anyway... (well... let's move on...)
The real, the most concrete (and sometimes very heavy) physical "thing", is the starting point for the writing of the show.
"In this creation, everything started with objects - these objects that I wear on my head: a stone, a trunk, a car. And since I couldn't build the car, I found myself writing a song about someone who takes care of his car, taking almost too much care of it. Knowing full well that it will never get him anywhere. So I composed music for these objects, as if they were opera characters, each with their own theme. And that drove all the writing for the performance."
Trained on the piano and then on the classical guitar in a family of music lovers who introduced her to the great classical repertoire in all its aesthetic and interpretive variety, Vimala Pons began writing the music for the Périmètre de Denver - or at least a sound model. "It's a way of setting the stage, a sound stage, which will then host the text. Marguerite Duras said 'Cinema is sound,' and it's the same thing for this show. And Kurosawa also said, I think, that soundtrack music is music that is always missing something. For me, this model helps me to find a musicality of the language and to include my choreography."
Another aspect of sound writing that Vimala Pons explores in the production: vocal masks. Embodying each of the seven witnesses/suspects in turn, of varying ages and builds, the actress wanted each to have a strong vocal identity. "I work with facial prostheses—the kind worn by movie stuntmen or bank robbers—adapted to my needs. The result is visually quite stunning. I wanted to do the same work on my voice, especially on the pitches (registers), and I wanted the result to sound natural and believable."

Masking the Voice - Technological Issues
"For me, the IRCAM was always associated with the figure of Boulez: it was like a secret society of sound, shrouded in mystery"
Vimala Pons began by experimenting on her own. 6 months of exploration of various plug-ins and vocoders by herself : "I had a lot of fun, hours in front of the computer, trying to figure out how everything could work. When the sound identity of my characters became clearer, I discussed it with Théo Ernandorena (sound engineer and stage manager of the Théâtre des Amandiers) and Anaëlle Marsollier, who helped me write the sound for the show and is in charge of the stage management. Anaëlle already knew Robin Meier, a computer music designer at IRCAM, and as the creation of the show approached, I felt the need to hand off the experiment to someone else. All the more so since the software I had been using up to that point was pretty basic. Robin was really the perfect person for this job. He speaks five languages fluently: he's a real genius when it comes to accents! He helped me a lot on this point."
"The vocal masks are not only technology. Working on prosody and accents also makes it possible to find another musicality of the language. You can hear all of Europe in the hotel of in the Périmètre de Denver! I realized that it was often up to me to play with my voice, like musical choreography in my throat. I have an earpiece during the show and the control room helps me a lot in keeping the accents, keeping the flow."
Vimala discovered the immense possibilities offered by the technologies developed at IRCAM: the recreation of a voice, for example, or the transfer of timbre from one voice to another. However, these solutions proved to be unsatisfactory on the stage, notably because of the lack of production time.
But there are other solutions that fit the bill perfectly: SuperVP, for example, which enables time dilation and compression, transpositions with or without timbre preservation, and many other things... The difficulty, in the context of the show, is that all this processing has to be done live. This requires a great deal of computational power in order to obtain a high-quality result. Even if other passages, in playback, allow other transformations.
"Robin also provided me with a chorus vocoder—very fun and beautiful. Together we also used Melodyne. Sometimes the result is quite 'dirty', but we kept it because it seemed artistically interesting. During my sessions at IRCAM, I realized that researchers sometimes seek too much perfection, whereas imperfection is in some cases richer, especially on the stage; it is a very different context from that of the studio, or even the concert hall. You have to know how to let go, stick to your artistic choices, and abuse live sound."
© L.Gangloff
Edit
---
Vimala Pons
Circus performer, actress, musician, tightrope walker, stage athlete... It's hard to describe Vimala Pons accurately - especially since she herself likes nothing more than to cultivate lies, both on stage and off.