Wed 12 April 2023
,
Thu 13 April 2023
,
Sat 15 April 2023
,
Sun 16 April 2023
,
Wed 19 April 2023
,
Thu 20 April 2023
,
Sat 22 April 2023
,
Sun 23 April 2023
,
8 p.m.
Centre Pompidou
Grande salle
Prices
Full : 18 €
Discount Price : 14 €
Pass Ircam : 10 €
Edit
Vimala Pons : Le Périmètre de Denver
Edit
Seven characters from different walks of life cross paths in a hotel in an English seaside resort where a murder has taken place. The accounts do not match up. Inspired by courtroom drama films, by the game of Cluedo, by Columbo's investigations, Le Périmètre de Denver sows permanent confusion between the true, the false-real, and the artifice, in particular vocal. Author, circus artist, performer, Vimala Pons was first trained in martial arts and classical guitar before studying art history and cinema.  Le Périmètre de Denver is a concept that borrows from both quantum physics and philosophy: it designates a state of confusion characterized by an altered relationship to identity and reality.
Vimala Pons conception, production, text and original music
Tsirihaka Harrivel artistic collaboration
Adeline Ferrante artistic coordination and production assistant
Benjamin Bertrand, Benoît Laurent, stage management
Anaëlle Marsollier, Annabelle Maillard, sound design and production
Alexandre Dubus, Arnaud Pierrel, lighting and video control
Agathe Poitevin, Mélanie Leprince, Anaïs Parola, dresser
Marie La Rocca, Anne Tesson, Rémy Ledudal, costume design
Charlotte Wallet, Olivier Boisson, Atelier de Nanterre-Amandiers, CDN, Marlène Bouana, object construction
Marion Flament and Jimme Cloo (Bigtime Studio), stage design collaboration
Alex Hardellet, Charles Sadoul, design of electro and video systems
Sylvain Verdet, collaboration on lighting devices
Robin MeierIRCAM computer music collaboration
Marc Chevillon, Benjamin Bertrand, artificier
Adeline Ferrante, production, diffusion (of the creation)
Alice Couzelas, administration (of the creation)
Mathieu Hilléreau - Les IndépendancesS, administration, production, diffusion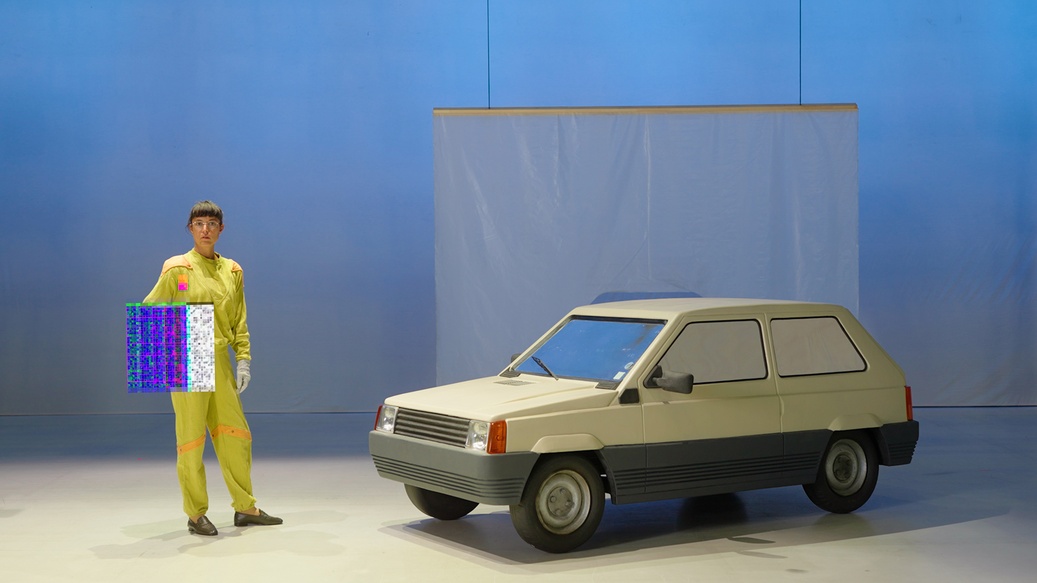 Le Périmètre de Denver © Makoto Chill Okubo
Edit
Production : VICTOIRE CHOSE Coproduction : Nanterre-Amandiers, centre dramatique national, 2 Pôles Cirque en Normandie • La Brèche, Cherbourg • Cirque Théâtre, Elbeuf, Le Lieu Unique, Nantes, CDN Orléans / Centre-Val de Loire, Bonlieu, Scène nationale d'Annecy, Le TAP, Poitiers, La Coursive, Scène nationale de La Rochelle, MC2: Maison de la Culture de Grenoble, Espace Malraux, Scène nationale de Chambéry, Le CENTQUATRE-Paris, Les Spectacles vivants - Centre Pompidou Paris, Les Halles de Schaerbeek, Bruxelles, Ircam-Centre Pompidou, Les Subsistances, Laboratoire de création artistique, Lyon With the support of : Ministère de la Culture - Direction Générale de la Création Artistique, DRAC Île-de-France, action founded by the Région Île-de-France Tsirihaka Harrivel and Vimala Pons are associated artists at the CENTQUATRE (Paris) and the platform 2 pôles Cirque en Normandie (2020-2021-2022). Vimala Pons is an associated artist of the CDN d'Orléans/Val-de-Loire and the MC2-Grenoble. The company VICTOIRE CHOSE is supported by the Ministère de la Culture - DRAC Île-de-France.