The Cultural Outreach Department offers on-site and off-site digital workshops for children and teens, students, and music lovers alike. The aim of these workshops is to enable the younger generation to test innovation, and to introduce them to the main areas of scientific and technological research on sound, conducted in IRCAM's laboratories and studios.
These workshops are aimed primarily at the general public (schoolchildren and individuals, children, teenagers, young adults, and accompanying parents).
These are concrete initiatives designed to integrate and decode technological and cultural changes in society, to shed light on the union of creativity and automation, and to re-appropriate the human-machine relationship.
Edit
---
SeineLab
Innovative sound and digital workshops at La Seine Musicale
Since February 2023, IRCAM and La Seine Musicale have teamed up for three years to offer a hands-on approach to the discovery of digital tools and to raise awareness of sound creation; two important societal issues for today's children.
Committed to innovative cultural and social development alongside the Hauts-de-Seine department and the Seine Musicale, IRCAM shares the ambition of making high-quality culture accessible to all. Together with the Cube, IRCAM is an active partner in the establishment of SeineLab, which offers a variety of workshops on sound and digital technology.
SeineLab is a venue to discover emerging artists and works in progress. In addition, SeineLab and its partners organize workshops for young people ( from the age of 6 ) and families on artificial intelligence, sound processing, and sound design. The public will be able to create the sound identity of a character or an object, explore the world of machines by inventing a Bestio-robot, build an unexpected musical instrument, learn about binaural production to create a 3D environment, an immersive soundscape, or a musical piece.

"Work and sounds"
Children's workshop: 11-15 years
Learn the basics of sound design and create a sound identity for an iconic character or object.
"1001 voix - Making the bestio-robot"
Atelier enfant : 7-12 ans, durée 2h
This workshop explores the world of machines that talk and make us talk.
"Field recording - Sound hunters"
Parent/Child workshop - ages 8 and up
Develop your sound sensitivity through an exclusive tour of La Seine Musicale.
"Digital lutherie workshop"
Children's workshop: 7-12 years
In this workshop, you can try your hand at creating your own instruments using your imagination and creativity!
"Architectural sound tour"
School workshop: ages 10 and up
Create your own sound postcard of La Seine Musicale!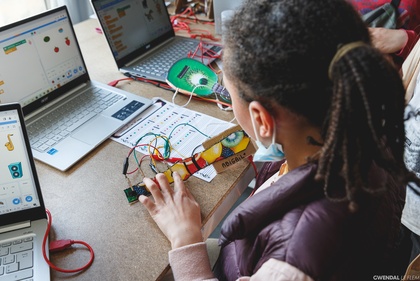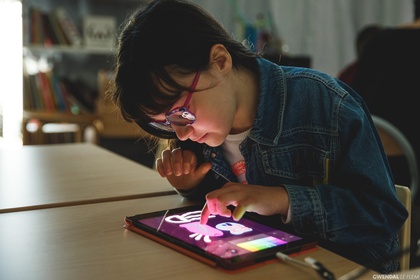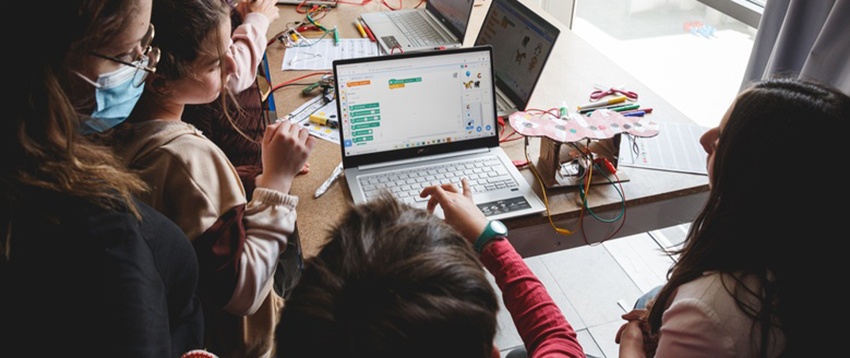 L'atelier « Lutherie numérique », l'atelier « Field recording - Chasseurs de sons » et l'atelier « Des mots et des sons » © Gwendal Le Flem
---
Chat-fiction: Confessions of a bot
A hands-on digital workshop for 10-14 year-olds
Chat-Fiction, confessions of a bot, lets you join a podcast factory that explores and deconstructs conversational agents.
"Who is this voice speaking to me? Where does it come from? What does it mean to write and read in the age of "talking machines"? To answer these questions, Chat-Fictions, confessions of a bot, invites teenagers to enter the virtual black box of a conversational agent. We'll explore new ways of taking the talking machine out of the realm of "magical thinking" and putting it back in its rightful place, both in terms of the human work going on behind the scenes, and in terms of the new possibilities conveyed by voice and language.
Wednesday, November 29, 2:30pm - IRCAM, Studio 5
Hosted by designers Zoé Aegerter and Sacha Sakharov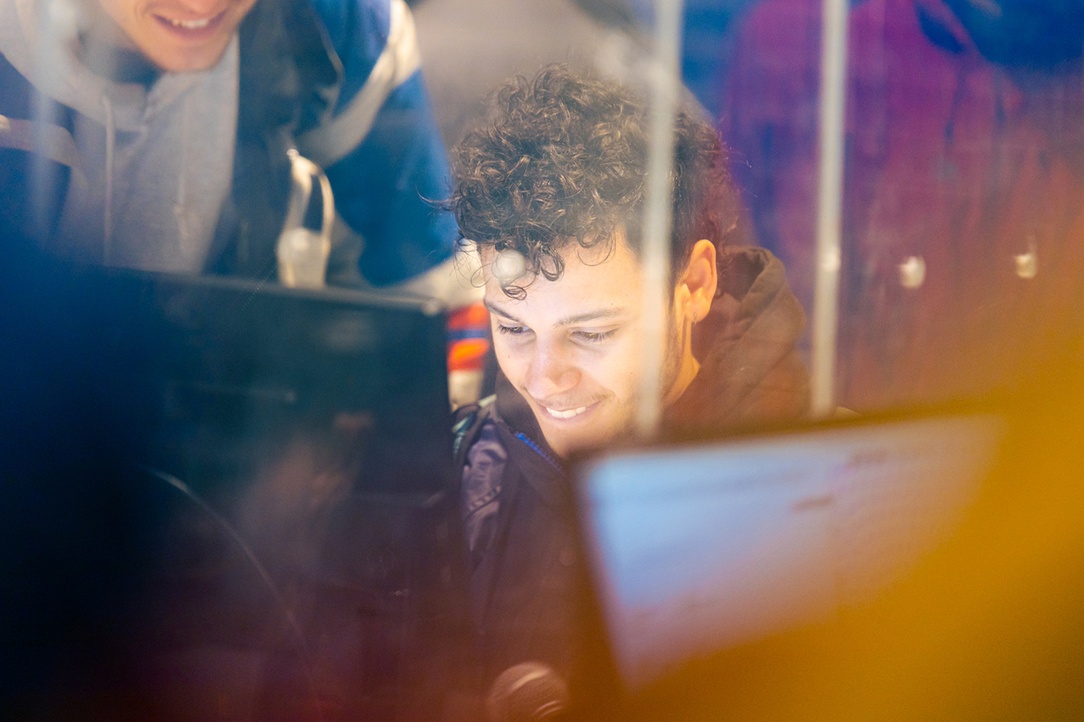 Chat-fiction workshop at the Ircam Open House, January 2023 © IRCAM-Centre Pompidou, photo: Quentin Chevrier
---
Storytelling with sound and movement
Hands-on digital workshop for 4-6 year-olds & families
CoMo-education is a mobile application for telling stories with sound and movement for ages 4 and up. The workshop invites children and their parents to enjoy a playful, interactive and collective experience based on listening, imagination and body awareness. The CoMo-education project is the result of collaboration between the Interaction Son Musique Mouvement team at IRCAM-STMS, and the association Premiers cris.
Samedi 9 mars, 14h30 - IRCAM, Studio 5
Led by Marion Voillot, PhD in cognitive sciences and designer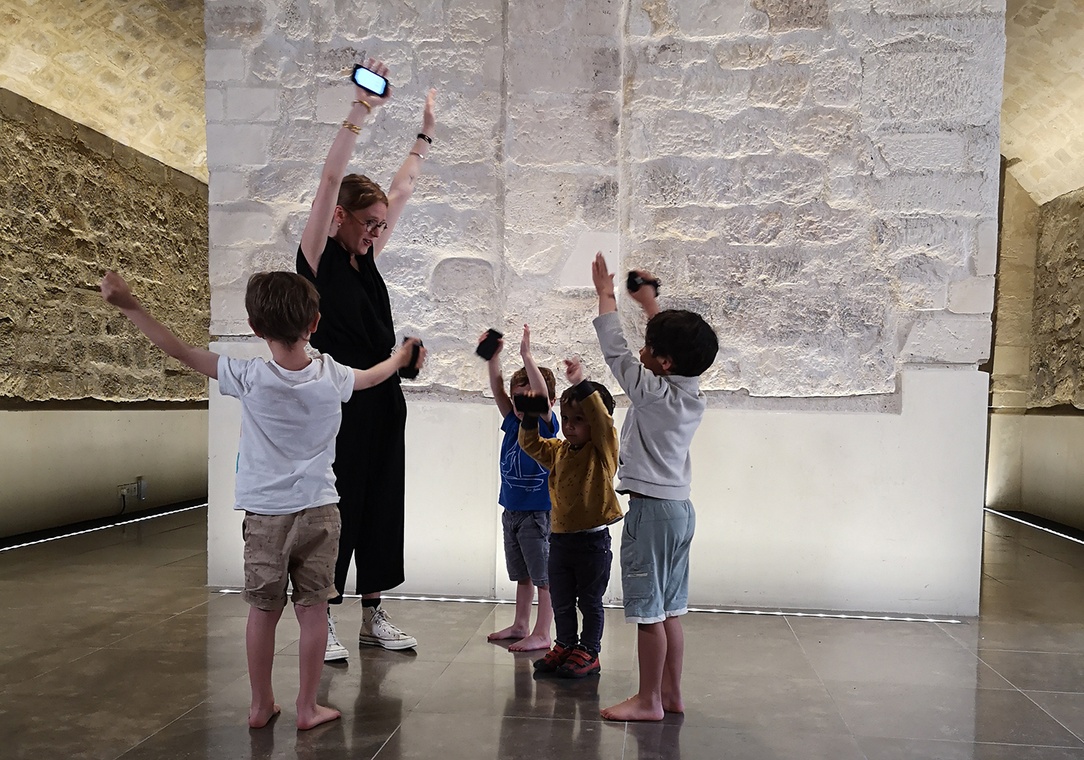 Marion Voillot, PhD in cognitive sciences and designer with kids