Experiencing and sharing sound creation: a threefold cultural challenge for today's youth.
Edit
Cultural mediation projects play an essential role in bridging the gap between artistic proposals and audiences; they encourage the emergence of an aesthetic experience and provide the public with the means to access new forms of interpretation.
The Cultural Outreach department offers projects for schools (middle and high schools) and higher education establishments, designed to encourage encounters with works and artists, practice and experimentation, in conjunction with our artistic season and the ManiFeste festival. These workshops take place over several sessions, led by educators and/or artists, and culminate in a participatory project linked to a work programmed by IRCAM as a part of our season or during our festival in June. During the workshops, participants visit IRCAM and attend a performance of the work that inspired them! The participants' project is presented at the school and, if possible, at IRCAM or the Centre Pompidou.
Tailor-made listening courses for high-school students are also available: a journey through the insitute's artistic season and festival, based on three concert proposals. Each one is prepared in class during an entertaining, active mediation session.
Information transmission@ircam.fr
Edit
---
Middle School Students
Replay
Create a sound work collectively with audio-digital creation tools
Launched by the European network Ulysses, with the support of Creative Europe, "Replay Culture Heritage" will be carried out from 2021 to 2023. It offers a class of high school students the opportunity to learn about sound creation by discovering and re-appropriating a major work of contemporary music.
Review of the successful Replay Culture Heritage project

Objectives
Allow students to discover IRCAM's particularities
Give students their first look at the use of digital audio tools for music creation
Provide students with the opportunity to discover a contemporary work and understand its compositional challenges
Encourage students to work together to create a remake of this work, which will be presented at the end of the program during a national presentation day

The program
Like the other participating countries, IRCAM will select a contemporary musical work. This work will be the starting point of the project.
1. Discovery of the Work
The piece is presented to the students in different forms and contexts. Students will use it to produce a musical work of their own inspired by and related to the work studied, reflecting their conception of the work and what it represents.
2. Collecting "Sound Material"
In order to create their own sound work, students collect sounds that they can later use.
3. Creation of a Sound Work
Using various materials collected, students produce their own sound creations, in reference to and echoing the work they have studied. Their work is presented to the public in the spring.

Project 2022-2023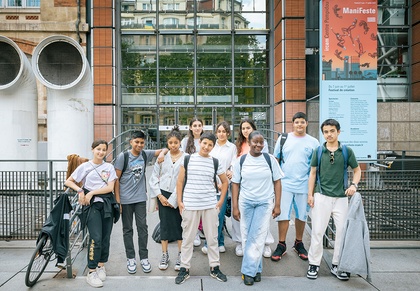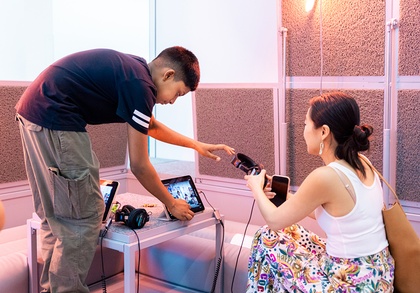 Classe 2022-2023 des cordées de la réussite du collège Joliot Curie à Bagneux © Ircam-Centre Pompidou, photo : Quentin Chevrier
A dozen "cordées de la réussite" students from the Joliot Curie secondary school in Bagneux were invited to discover and reinterpret Laborintus II in order to make it their own. The educational workshops were run by sound designer Kinda Hassan and Saïda Bouaïss, the school's librarian, with the aim of creating a collective piece of electronic music inspired by Luciano Berio's work.
Review of the 2022-2023 project around Laborintus II
Final work, Replay Laborintus II

Project 2021-2022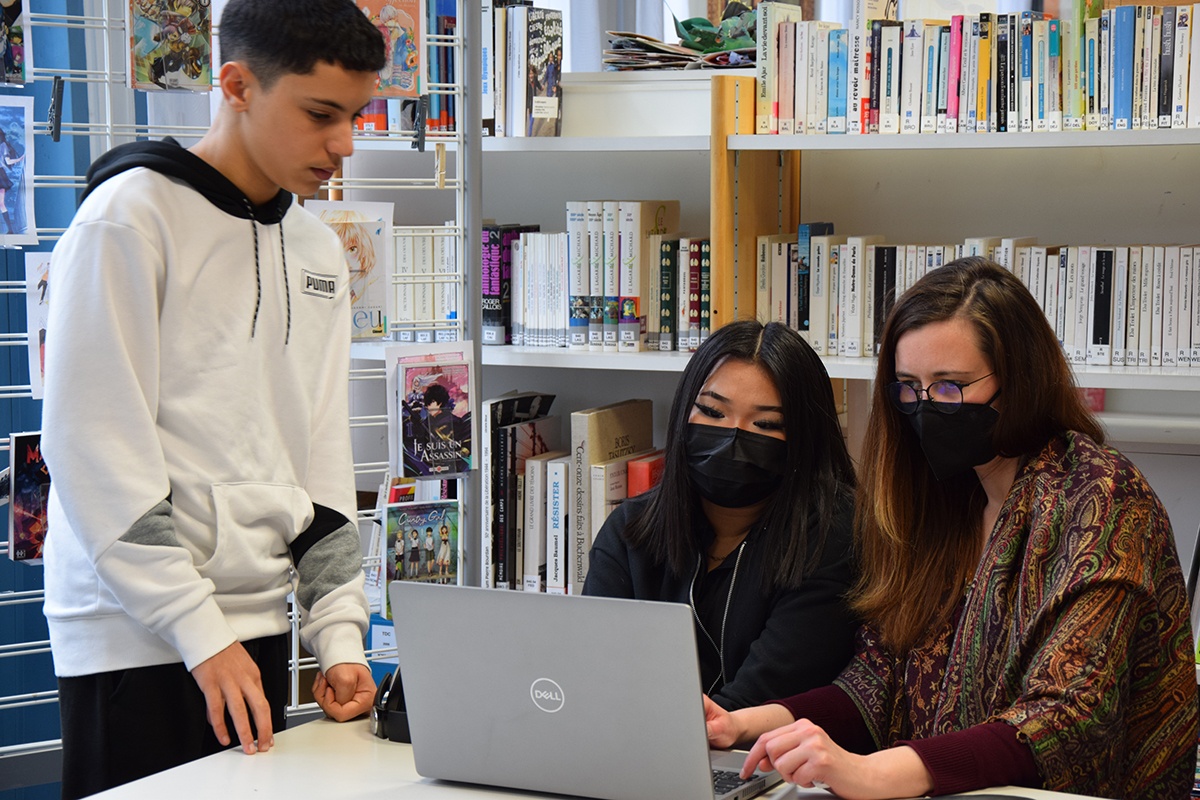 Replay, séance de travail avec Claudia Jane Scroccaro, projet 2021-2022 © Ircam-Centre Pompidou, photo : Salomé Bazin
Twelve ninth-graders from the Joliot Curie secondary school were invited to discover Steve Reich's work "Come out" and the film "Fase", directed by Thierry de Mey, with choreography by Anne Teresa De Keersmaeker and Michele Anne de Mey. A dozen workshops were held from December 2021 to May 2022, leading up to a public performance in the Centre Pompidou cinema.
Final Work, JE NE SAIS PAS QUOI FAIRE COMME BRUIT

Information
Public junior high and high school classes
Number of Sessions 5-10 sessions
Contact 01 44 78 47 70 | emmanuelle.zoll (at) ircam.fr
This project was implemented within the framework of the ULYSSES Network, co-financed by the Creative Europe Program of the European Union.
---
High School Students
Interactive Map of the Bois de Vincennes
In conjunction with the production of Transfert  by composer Florent Caron Darras, educational workshops based on the theme of field recording and listening to the environment were held with students from the Maurice Ravel high school, exploring the world of sound creation and electronic music.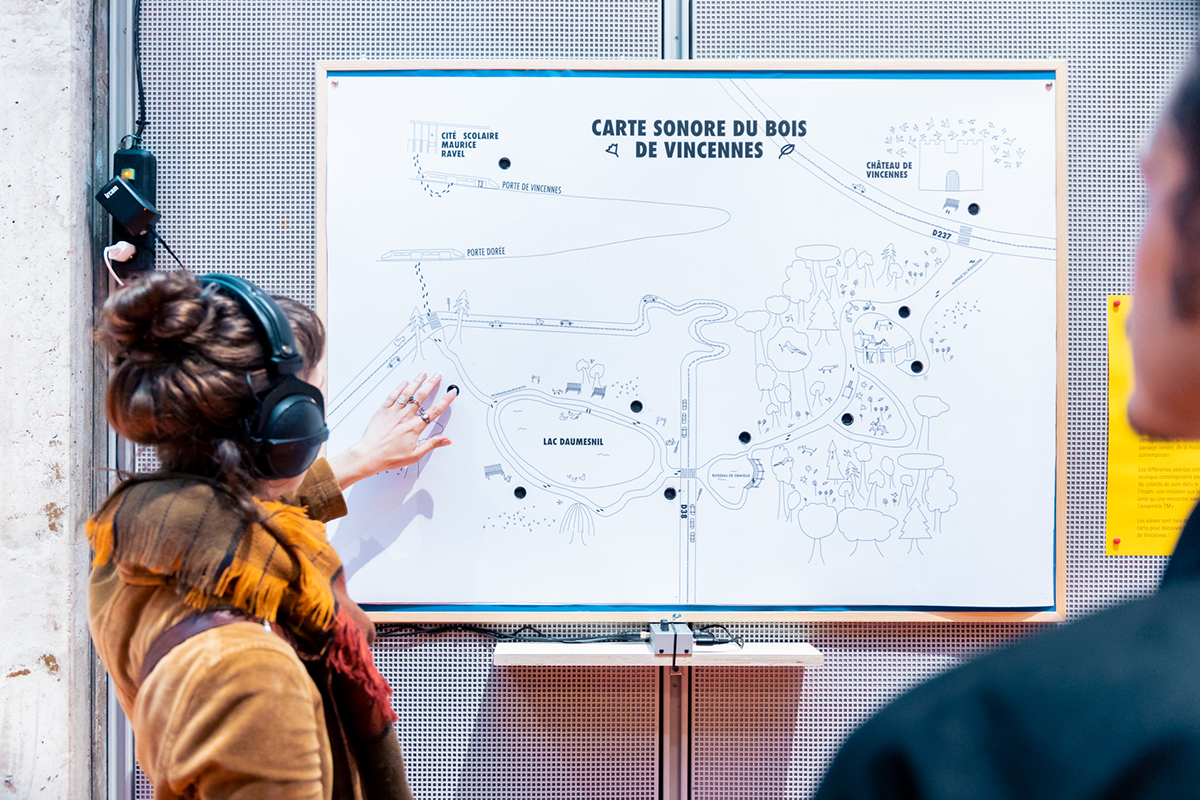 Interactive Map of the Bois de Vincennes, January 2023 © IRCAM-Centre Pompidou, photo: Quentin Chevrier

The Program
1. Recording of sound samples in different spaces
The students approach the Bois de Vincennes through listening, spending an afternoon recording sound samples in different areas of this landscape located midway between urban and natural spaces. This exercise lets them hear different sounds and their variations in the same environment.
2. Composition
The students learned audio editing techniques on a computer so that they can transmit their experience through short sound portraits of the spaces they visited. They then created a sound map of the area with the help of their history-geography teacher, Morwenna Coquelin, present throughout the project. This interactive sound map—a subjective representation of the Bois de Vincennes—helps students synthesize their experience and share it through a physical and tangible medium.
3. Discovery of IRCAM and Exchanges with the Artistic Team
During this project the students visited IRCAM, its anechoic chamber, and its studios. They met with composer Florent Caron Darras and computer music designer Augustin Muller to talk about their work in the studio for the creation of the piece Transfert. Students were able to discover several compositional techniques used in the creation of this piece. They also meet with Laurent Cuniot to discuss his work as conductor of the TM+ ensemble.
4. The Performances
Two performances were be organized. The first, for the general public, was held at IRCAM during the Open House in January 2023, and the second at the school for other students, parents, and the educational community.
Through these workshops the students will be able to familiarize themselves with the musical creation being carried out today at IRCAM as well as some of its technologies.

Project 2022-2023
Several sessions with students from Maurice Ravel High School (20th arrondissement of Paris) in the IRCAM studios from October 2022 to January 2023
Instructor: Pierrick Pedron, sound designer
Île-de-France Region EAC Program
The Île-de-France Region provides support for IRCAM's artistic and cultural education projects for the 2023-2024 season through its "Aide régionale à l'éducation artistique et culturelle dans les lycées et CFA" scheme.
Through this scheme, IRCAM is able to promote artistic and cultural education in two classes in three schools.
Thematic "artistic practice" workshops running over a dozen sessions, help students discover IRCAM's programming through the creation of a collective work related to an evening offered in the concert season. Each of these workshops leads to a public performance.
A "listeners" course offers a class the chance to experience three different performances from the season's program. Each evening will be introduced with a special guided discussion.
---
Listening Courses
The Cultural Outreach Department offers middle and high school classes the chance to follow an listeners' course. Throughout the year, students can attend three performances from IRCAM's artistic season. The artistic program will depend on the availability of performances and the preferences of the teaching staff.
In addition to these three performances, students can enjoy a guided tour of IRCAM, learning about the institute's architecture and history, as well as an in-class introductory session before each concert to prepare them for the performance.
The listeners' program is designed in collaboration with the IRCAM teams and according to the school calendar, and is organized a year before the artistic season in questio (Example: contact made in spring 2023 for a listeners' tour for the 2023/2024 school year).
Information and prices transmission@ircam.fr