Deena Abdelwahed in the studio
Edit
Interview with artist Deena Abdelwahed
Edit
A Childhood Memory - Artistic Issues
For Deena Abdelwahed, the starting point of this project is a childhood memory. One of the first memories she has of making music on her own; "making" in the sense of inventing, imagining, even manufacturing music.
"When I was little," she says, "during slow times at school we would all sing and dance together, just to set the mood. And it was me who set the rhythm by tapping on my desk like a darbouka. When I played on this desk, it sounded like a desk of course, but in my head, I heard many other sounds."
This is the very instrument she is developing in the IRCAM studios: a school desk on which she plays her rhythms but which can produce whatever sounds she has in her head.
This instrument fills a void. In the electronic instrument market, everything that concerns percussion, rhythm production, or beat making is more or less derived from, or inspired by, a drum kit: pads or buttons positioned at a distance from each other each produces a MIDI signal that triggers a sound, with varying degrees of clarity. A mechanism, but also a lack of nuance, frustrating for the Tunisian musician.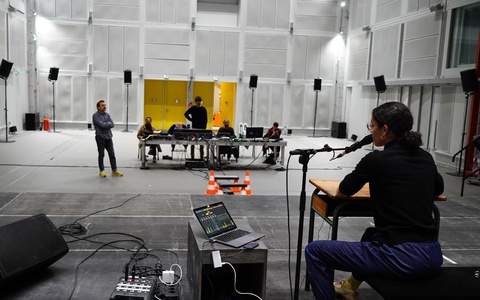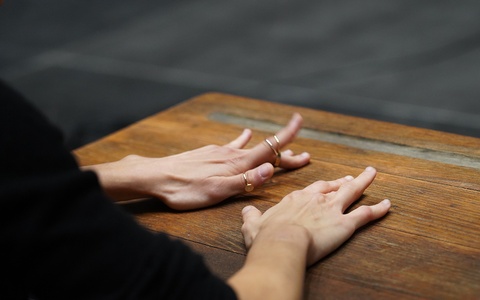 "So far, no one has thought of producing an electronic instrument based on the darbouka or any other similar instrument. Perhaps they are seen as too limited to traditional music? It's a pity, because with this type of instrument, you can make a multitude of sounds and rhythmic patterns from the same space. I dream of an electronic percussion instrument, which consists of a MIDI capture tool that reproduces the variety of playing styles (velocity, attacks, etc.) and sounds (more or less resonant or rubbed, etc.) of an instrument like the darbouka."
The challenge is therefore to invent a new instrument adapted to its own musical language.
Adapting Technology - The Technological Issues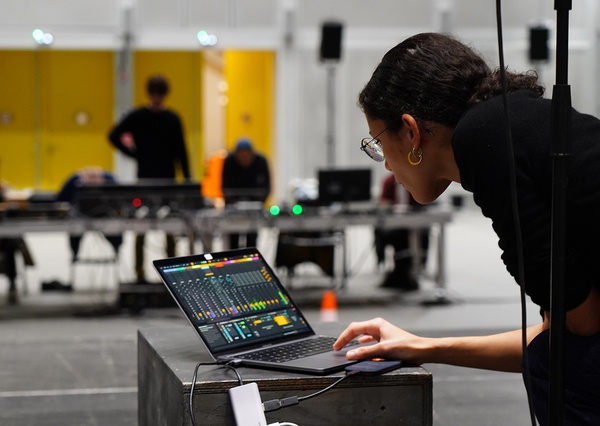 From her privileged vantage point, Deena Abdelwahed keeps perfectly up to date on IRCAM news: "I really like the website and blogs. Working daily with tools from the IRCAMax 2 suite, I keep up to date with all the plug-ins accessible via Ableton Live. As a result, I've had a number of questions, theories, and ideas for musical applications for some of the research being done at the institute that I'd like to experiment with. But, from MIDI capture to artificial intelligence to deep learning, my main question when I arrived was, and still is: how can I apply these tools to my artistic practice, how can I personalize these techniques and technologies?"
"For example, I' ve been using Notetracker to compose since 2017. The principle is the following: I sing a melody on the microphone, and Notetracker transforms the sequence of sung notes into a MIDI signal, which can then be reused on any synthesizer or other hardware instrument. My approach to melody is very intuitive and it's much faster and more efficient for me to compose this way. The only problem is that Notetracker works with an equal-tempered pitch scale. I don't. With the researchers at IRCAM, we are trying to adapt it to other harmonic scales and to make it more sensitive (of the order of comma, or even for pitch bend, i.e., linear modification of the pitch)."
The approach is much the same for fitting the school desk with sensitivity to a wider range of playing modes, coupled with a richness of sound.
"Robin Meier and I are developing a sensor that includes a piezoelectric microphone attached to the bottom of the desk. This sensor is associated with a plug-in capable of discriminating the different playing modes and then sending the signal in MIDI format to a drum kit of my making, which ultimately synthesizes the sound."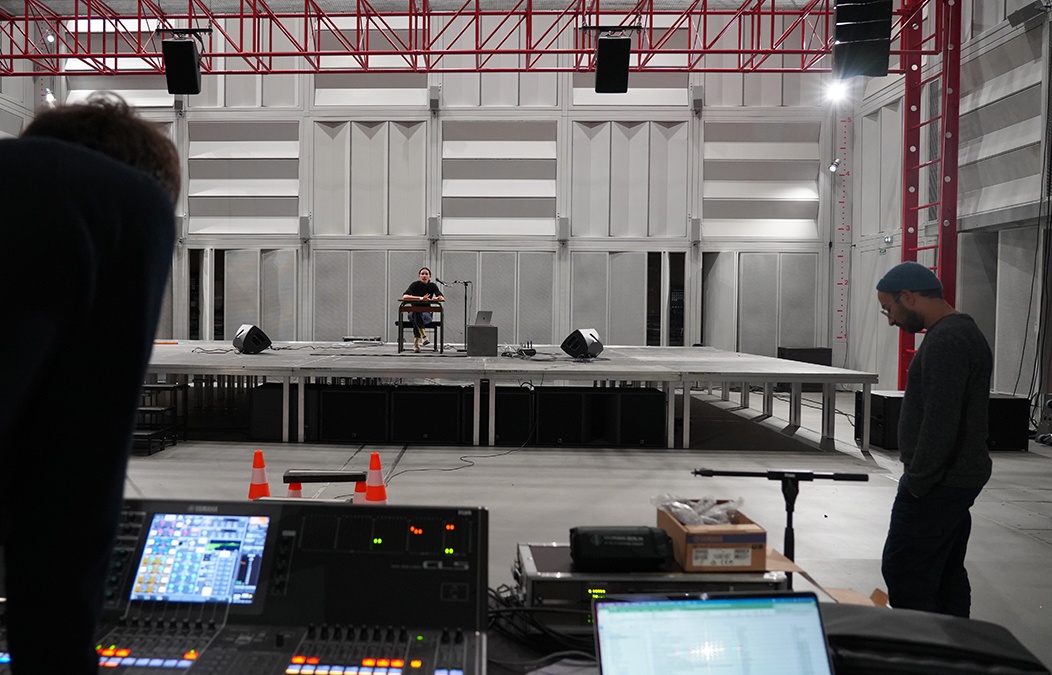 In addition to the craft of violin making, there is also a lot of machine learning to teach the software the nuances of the playing modes associated with the sounds produced. "At a later stage," concludes Deena Abdelwahed, "I would like to use this same instrument, with these same playing mode discrimination tools, but to produce other timbres, possibly with chimeric instruments."
Photos: Deena Abdelwahed, work at the Espace de projection © IRCAM-Centre Pompidou, photo: Deborah Lopatin
Edit
---
Deena Abdelwahed
Deena Abdelwahed arrived in France at the age of 26 after having made her debut on the Tunisian scene and as part of the Arabstazy collective. Self-taught, in search of the sound of the future, Deena imagines her sets as research laboratories, on the cut…
---
À découvrir lors de ce concert