The Factory of Sonic Dreams
Edit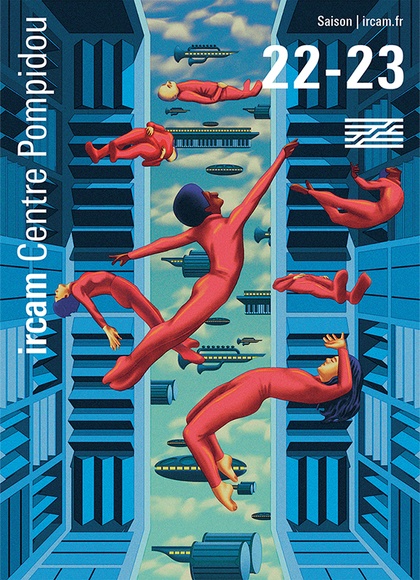 The Fabrique des rêves sonores, The Factory of Sonic Dreams, is a place, a memory and a shifting collective of artists, scientists, and engineers, better known as IRCAM. Mobilizing musical and scientific creativity, technological innovation and now cultural industries, IRCAM will return to its Espace de projection in January 2023. At 16 meters under the Stravinsky fountain, the "Espro" can adapt its scenography and acoustics, going from electronic studio to sound cathedral through the system of mobile periacts. This rebirth feels like a first time rather than a return: a space dedicated to electronics, contemporary, and experimental music (the Electro-Odyssey series), to installations and performances, to participatory science and immersive audio, to new creations and the repertoire. With an emphasis on conviviality, this season also offers discussions and drinks in the company of guest artists, performers, and researchers.
Nowhere else: the success of Xenakis' polytopes and the /nu/thing collective, with sold-out performances for two weeks in June 2022, reveals our new audience's appetite for events that break with contemporary conventions. Nowhere else, everywhere else: IRCAM remains nomadic with its numerous tours in Marseille, Metz, Paris, Nancy, Toujouse, Rennes, and Angers. Present in New York for its Forum and in Taipei, in Hamburg, Frankfurt, Stuttgart and Berlin, in Basel and Biel, in Brussels and Lisbon, in Milan and Wroclaw, The Factory of Sonic Dreams is stepping up its international appeal in 2023.
2023 is also the year of Ligeti born a century ago. The artist of the continuum, of micro-polyphonies and sound illusions, the musician of choice for Kubrick's cinema, who prefigured electronic music, music without limits, using only instrumental or vocal means. In Ligeti's work, the first time and history coexist, one in the folds of the other: "You take a piece of foie gras, you drop it on a carpet, and you trample it until it disappears. That's how I use the history of music."
Frank Madlener, IRCAM Director
Edit