The Factory of Sonic Dreams
Edit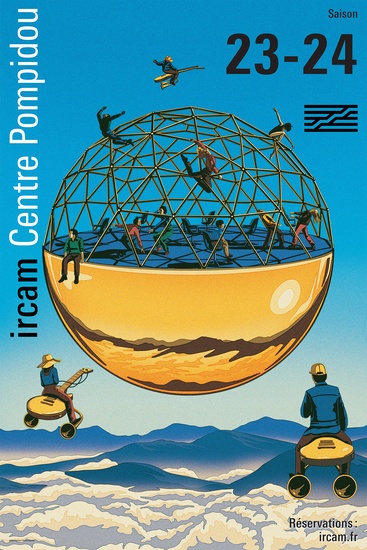 Nowhere else will you hear Rioji Ikeda and Ash Fure on the same stage, or see Steve Reich's Pendulum Music and Electric Counterpoint by Radiohead guitarist Johnny Greenwood. Nowhere else will you blow out the 50 candles of Ensemble Itinéraire with Natasha Barrett, Núria Giménez Comas, and Eric Maestri. Nowhere else will you experience Nina Simone revisited by Claron McFadden and the Fanny&Alexandre company, the virtual worlds of Murcof and Simon Geilfus, the sirens of Franz Kafka and Francesca Verunelli.
Nowhere else, the 30th anniversary of the IRCAM Forum and the participative science of Fictions Science, devoted to the performing body and the optimization of movement... it's been announced that this will be an Olympic year? Nowhere else, the Feu de Joie celebrating the Stravinsky fountain, illuminated by Mikel Urquiza with students from the Conservatoires du Centre, and the confession of a bot, a workshop exploring conversational agents. Nowhere else, the growth of a new collection, Musiques Fictions, which opens the cultural program of the new Cité internationale de la langue française in Villers-Cotterêts.
Nowhere else, in fact, but technologies and their critical use, ambient engineering and the fabrication of sonic dreams, electronics, and writing. Nowhere but at 1, place Igor Stravinsky, Paris.
Frank Madlener, IRCAM Director
Edit