Music and Illness [1/2]
Edit
On October 19 and 20, IRCAM will be hosting a symposium and concert on the theme of "Music and Illness". Imagined and organized by musicologists Laurent Feneyrou and Céline Frigau Manning along with medical historian Vincent Barras, the event will do exactly what its title suggests: shed light on two disciplines whose intricacies are more numerous and complex than first meets the eye. Laurent Feneyrou presents the major issues at stake, as well as their musical translations, which can be heard in a musical program presented by l'Instant Donné on October 19.
First and foremost, how did the idea for this "Music and Illness" symposium/concert come about?
The idea dates back to 2015. Musicologist Gianfranco Vinay had drawn my attention to an essay by his colleague Giovanni Morelli (1942-2011). This essay, entitled "Music and Illness", had appeared, in Italian, in the Enciclopedia della musica edited by Jean-Jacques Nattiez, but had not been translated into the French edition, which I then decided to do. Painter, draughtsman, writer, poet, performer, cinephile and, above all, trained as a doctor, Morelli first taught anatomy at the Bologna Academy of Fine Arts, then musicology at the University of Bologna. Ca' Foscari de Venice, before founding the Cini Foundation's Institute for Music, which he directed until his death. In his essay, extraordinary in its erudition, conceptual virtuosity and writing, Morelli outlines a number of research themes: on the hygienic, sedative, if not narcotic, and moral way in which medicine considered music from Antiquity to the Classical Age (music and medicine)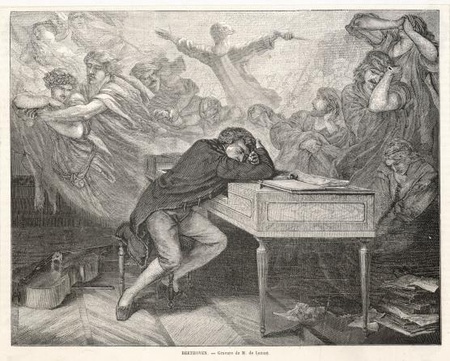 ; on the transition, in the Baroque period, to a new order in which the patient discovers himself to be a subject, paving the way for the 19th century, in which the artist exposes himself to illness, more and more seriously, and in which the medical gaze seeks, in every symptom, and even in autopsies (of Beethoven, Schumann, Chopin... ), the mark of genius (musicians and illness); on a new change of era, with the advent of modernity, where illness is no longer a deviation from the norm, but a composition, by the body, of another way of living, when technical medicine tends to study illness without the patient, to dehumanize it, to "de-subjectivize" it, at a time of analyses, X-rays, scans or MRIs, of cancer, AIDS and other modern-day epidemics (music and illness).
Gravure représentant Ludwig van Beethoven (1770-1827). MARY EVANS PICTURE LIBRARY / PHOTONONSTOP
Around the same time, I arranged an astonishingly rich dialogue between Salvatore Sciarrino and the philologist, Hellenist, Latinist and medical historian Jackie Pigeaud (1937-2016) on the subject of melancholy. Pigeaud has left us an admirable and prolific body of work for musicology, through his works on the "illness of the soul", or on art and the living, but also, more specifically, on music and the pulse, from Herophilus of Chalcedon, inventor, in the 4th-3rd centuries BC, of sphygmology (the study of the pulse), and discoverer that there is "regularity, du rythme dans le corps", to quote Pigeaud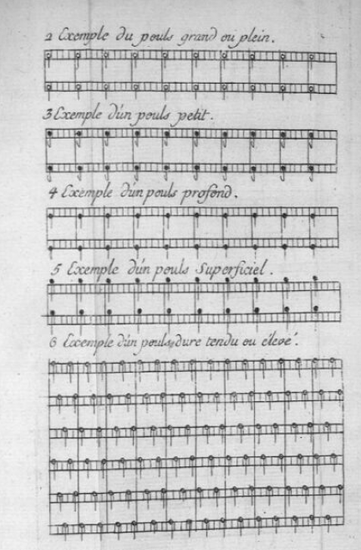 , to the "Nouvelle Méthode facile et curieuse, pour connaître le pouls par les notes de la musique" (1769) by Lorraine physician François Nicolas Marquet, and to current experiments on cardiac rhythm and its disorders, in relation to the composition and perception of music. The October 19 concert features Heinz Holliger's Cardiophonie (1971) set against this backdrop.
If Covid, with its impact on our humours, has delayed this colloquium, organized with Céline Frigau Manning from the University of Lyon 3 and Vincent Barras from the Institut des humanités en médecine (Lausanne) with the collaboration of Philippe Lalitte and Emmanuel Reibel, Morelli and Pigeaud remain, as far as I'm concerned, the two tutelary figures.
François Nicolas Marquet, Nouvelle méthode facile et curieuse pour connaître le pouls par les notes de la musique, Amsterdam, 1769, seconde édition, sans page.
What are the main areas of research highlighted at the symposium?
The scientific committee called for papers along two main lines of research:
1. Case studies or pathographies of composers and performers (such as Glenn Gould, discussed by Vincent Barras), with the aim of describing the consequences of illness on the musician's biography, practice and even aesthetics. Pathography implies, against the injunctions of structuralism, a renewal of biography and a singular regime of discursivity. In this sense, our aim is neither the pure establishment of a diagnosis, nor the umpteenth attempt at a medical interpretation that would claim to explain the creativity of musicians or, more broadly, the artistic phenomenon through the prism of the medical knowledge of the moment, but the examination of existing pathographies or the very genre to which they belong, questioning the temptation to remove the medical gaze from its historical determination, as well as the ways in which the artist's natural body is taken into consideration, from both a musical and musicological point of view.
2. Studies by disease: diabetes, AIDS, as well as Alzheimer's and, in the field of psychiatry, schizophrenia, bipolar disorders, and dissociative hysteria, to which can be added pathologies constructed as specifically musical, such as amusia, hypermusia, obsessions, "earworms " or " brainworms ". We intend to observe the history of these illnesses and their medical descriptions, through treatises and historical documents, and to examine the way in which they are related to musicians, their works or their interpretations, their discourses, as well as to musical representations, notably in the field, also literary and scenic, of opera. How, for example, beyond La Traviata, does Franco Donatoni represent his diabetic coma in Alfred, Alfred, in which he played himself on stage?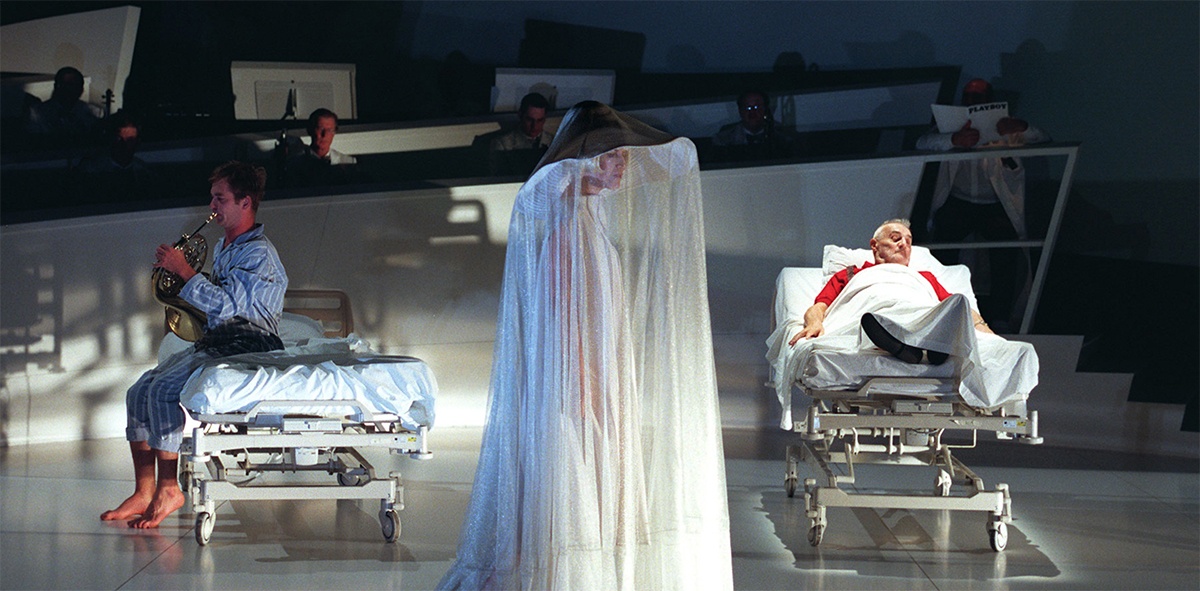 Alfred, Alfred de Franco Donatoni, commande de T&M-Nanterre et du Festival Musica de Strasbourg © Droits réservés
A third axis, which seems very promising to me, but which has found little echo among musicologists, historians of medicine, and philosophers of science, is that of studies by medical discipline, measuring, for example, the history of obstetrics against the measure of the representation of birth in music; the history of pediatrics to that of childhood, alive since the 19th century, from Schumann to Stockhausen; the history of pneumology, particularly efficient in the case of late Romanticism, to that of breath; or the history of cardiology to that of rhythm - which we have already mentioned.
Just how much of the history of health and/or medicine can be read through the history of music, and vice versa?
Syphilis, from which Donizetti, Chabrier and, even more emblematically, Hugo Wolf died, should be studied in relation to the theme of creative folly. Schubert was not spared from mercury, which is toxic to the kidneys and has a significant impact on the patient's general condition (lassitude, chronic anemia aggravating asthenia, weight loss, loss of appetite, metallic taste in the mouth, nausea, vomiting, insomnia and daytime drowsiness, arterial hypertension, sometimes severe and responsible for headaches, visual disturbances, dizziness, cardiac damage... ), but in the tertiary stage of the disease, whose fatal outcome was anticipated by intestinal septicemia. Be that as it may, Bach, Handel, Mozart, Beethoven, Mendelssohn, Schubert, Chopin, and Puccini provide an introduction to eye surgery, complex clinical pictures, a hereditary disease, two of the great evils of the 19th century - syphilis and tuberculosis - as well as cancer, but also the history of hygiene, nutrition, sexuality, the hospital, the teaching of medicine (to which Berlioz testified in his Memoirs), and pharmacology (the correspondence of the Mozarts, Leopold and Wolfgang Amadeus, is fascinating in this respect). Closer to home, Solveig Serre and Luc Robène will study the consequences of artificial paradises and the illnesses associated with these substances and their uses (AIDS, hepatitis C, psychiatric disorders...) in the punk community.
Rather than investigating the relationship between composer and doctor, as in the case of Beethoven's remarkable relationship with Malfatti or Brahms' with Billroth, we are interested in the diseases themselves, even if the descriptions of symptoms do not always confirm a precise diagnosis. In this respect, the genre of pathography remains contested in the history of medicine, as the doctor of this or that composer, whether Baroque, Classical, Romantic or modern, did not look at his patient's body in the same way as today's doctor would: principles, reading grids and nosographic frameworks are constantly changing. How, then, can we establish a diagnosis on the basis of observations made by others, who observed differently? There is another, artistic, risk: that of seizing upon the diagnosis and "applying" it to musical writing, thereby reducing creative invention to a symptom. Schumann is no exception: abrupt mood swings, harmonic oddities, formal eccentricities...
This point is relevant as far back as the description of the musician's body, even before any pathologies: to say that this body measures around 1.55 m is one thing, to say that Schubert's body measures 1.55 m is another, and to say that Schubert's body, measuring 1.55 m, infers a singular inscription in the world is yet a third. It is, I believe, one of our principles to reject this third way, just as much as it is not to establish a linear causal link between pathology and the work. In his essay, Morelli makes two exceptions to the rule: the first, a one-off, is Chopin, whose "extreme propensity for fatigue" may have induced a format, or even musical genres, shorter than the classical sonata, and independent of Romantic notions of miniature or fragment; the second, essential, and widely shared, in the later Schubert or Mendelssohn in particular, would have to do with creative urgency in the face of illness, not in the face of this or that virus or infection, but in the face of fear of imminent death.
Jérémie Szpirglas
Edit
---