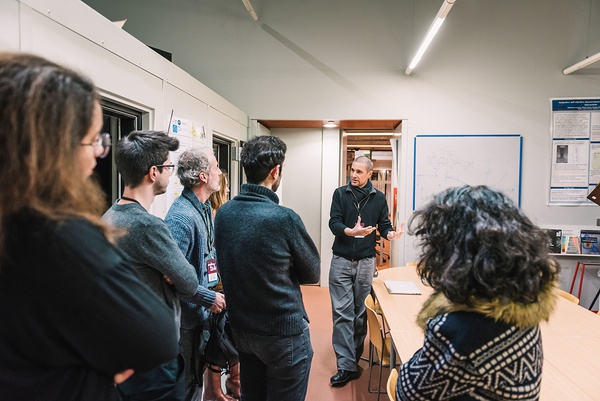 Situated at the convergence of art, science, and technology, sound design is an aesthetic and functional process: conceive sounds and integrate them in a space, a manufactured product, or a digital interface. Compose based on a finality, on a use, and on perception. The domains covered are multiple, from urban planning to communication, from the fabrication of objects to the emergence of new uses.
The scientists from the Sound Perception and Design team at IRCAM will present their projects applied to industrial sectors, born from a close partnership between scientists and composers. Issues surrounding training and professionalization will also be addressed and a workshop on applied sound design lets participants understand the subtlety and difficulties of a sound design production.
Participants: Sound Design and Perception team IRCAM-STMS with Olivier Houix, researcher, Marco Liuni, researcher and computer music designer, Nicolas Misdariis, researcher, team leader, and Patrick Susini, research director  ; Clément Cerles, IRCAM sound engineer  ; Andrea Cera, Roque Rivas, composers ; Pierre Navarron, sound designer.
Edit
Photo: Nicolas Misdariis at IRCAM © Aliocha Boi
Program
Studio 5
Conferences: presentations of recent sound design realizations
3pm

Conception of sound function for the watch industry
Andrea Cera & Nicolas Misdariis
4pm
Conception of sound pieces for the tasting room in a champagne house
Roque Rivas & Patrick Susini
5pm
Conception de signatures sonores pour les véhicules électriques et autonomes
Nicolas Misdariis
Studio 1
Listening sessions (every 15 minutes)
Hear the sound pieces Roque Rivas created for a champagne house's tasting room
Clément Cerles, Roque Rivas, Patrick Susini
Salle Shannon
Hands-on workshop (4:15, 5:15: 30 minutes each session)
The voice as a sound prototype tool
Learn the process of creating a sound signature during workshop on vocal sketches
Nicolas Misdariis & Patrick Susini
Labo PDS (A24)
Workshop on experiments in soundproof cabins (non-stop)
Emotional transformations of the voice – workshop on augmented speech and conversation
Marco Liuni
Galerie
The Sound Design diploma from the l'Ecole supérieure d'art et de design Tours Angers Le Mans (non-stop)
Presentation of university trainig in sound design and student projects (2013-2018)
Olivier Houix.
Demonstration of work by Pierre Navarron, DNSEP diploma in 2018: sonification of a tool for physical therapy
---