St-Marcellin
Project Presentation
The 26 students in their 2nd year of the vocational high school program SAPAT (Services aux Personnes et aux Territoires) discovered works by Romuald Jandolo during the exhibition Il n'y a pas de place pour nous at the Halle de Pont-en Royans in order to carry out their workshop with the composer Anthony Clerc. Romuald Jandolo combines volume and performance in his work, with inspiration from circus artists and folklore, evoking the marginal aspects of our society in which he grew up, his itinerant childhood with vivid colors and fragmented forms. The students' choice was based on the exhibition's centerpiece, which shared its name with the show, mixing mediums, materials, and investing the space in a unique manner, destined to change.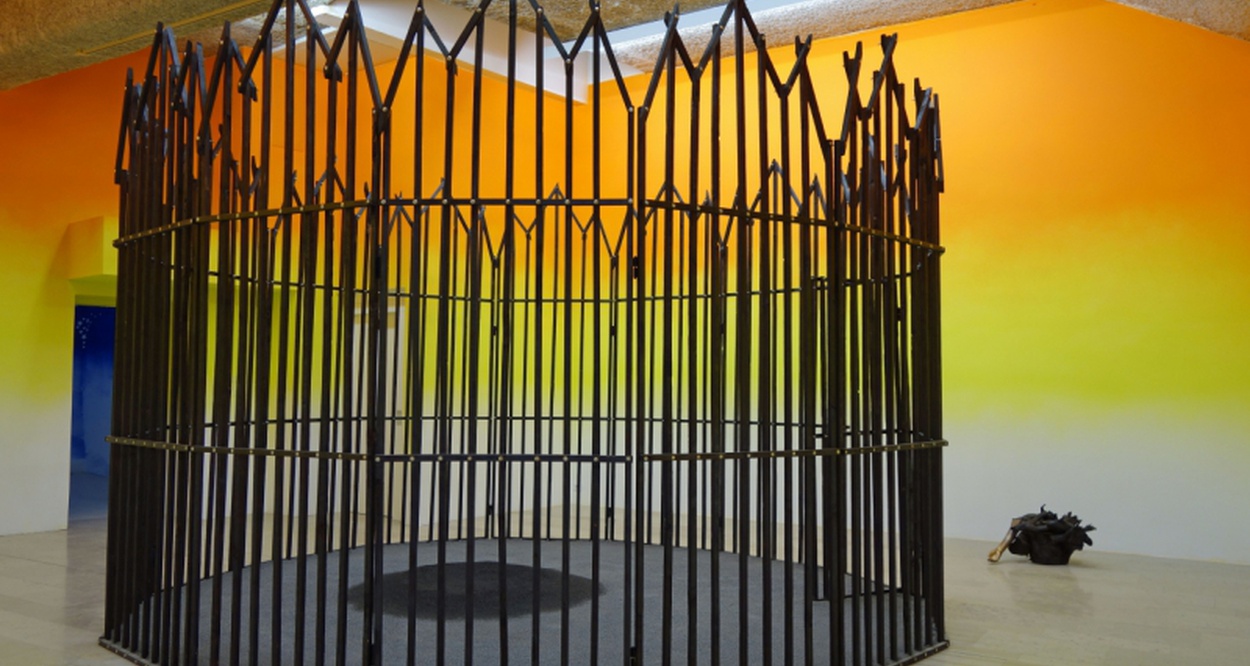 Romuald Jandolo, Il n'y a pas de place pour nous (2019). Burnt wood, metal, sand, murals, ceramics, glass, and bronze

Partners
2nd Year Students in the Program SAPAT: Service aux personnes et aux territoires (
26 Students)
Founded by Pierre Alain Jaffrennou and James Giroudon in 1982, today Grame is one of 6 centers that make up the network of French national centers for musical creation (Centre National de Création Musicale), a certification created by the French Ministry of Culture in 1997.
Its mission is to promote the conception and production of new musical works and to construct in a context of cross-cutting arts and synergy between the arts and sciences.  
Grame is a home and residence for composers, performers, researchers, and artists from a broad range of disciplines engaged in a process of innovation. They find a high-level technical environment, accompanied by artistic and technological assistance. About 20 French and foreign composers, as well as different artistic teams, are invited in residence each season.
Creations and mixes can be found through the variety of instrumental ensembles, from soloists to large ensembles. New productions touch concert forms as well as shows, operas, performance art, or exhibitions with sound and visual installations.
A venue dedicated to creation and driven by the desire to present different facets of contemporary art, the art center is part of a momentum of support for contemporary art, openness and experimentation.
A wide range of artistic approaches and research is proposed each season. Over the years, the Halle has also invited several artists to produce in situ exhibitions in close connection with the local region.
Exhibitions are accompanied by numerous satellite activities (artist residencies, off-site projects, publishing, etc.) and cultural activities (conferences, visits, encounters, etc.).
Although particular attention is paid to artistic education for the youngest; the numerous partnerships with local cultural actors give rise to diverse events that allow us to reach out to all audiences.

Riom
Project Presentation
The 30 students from the Lycée Polyvalent Joël Bonté de Riom's woodworking program visited the travelling group exhibition Troisième Lieu at the Salle Gilbert-Gaillard in Clermont-Ferrand. They chose the works "Sous Revêtement" and "Forme et Asso" by Zach Mitlas. They then created, thanks to the interventions of the composer Aude Fournier, a musical scene inspired by the two works. In addition, the students imagined and created a wooden sculpture to complete the sound scene using their specific skills.
The exhibition Troisième Lieu, imagined by the Macedonian curator Jovanka Popova, presents a series of works from diverse artistic disciplines, highlighting young European contemporary artists, around the themes of living together, solidarity and community. The Troisième Lieu (lit. third place) being approached as a space for political, cultural, geographical, and economic encounters. Zach Mitlas, trained in the United States, is one of the representatives of young French contemporary artists.
Partners
30 3rd-Year Students in the Woodworking Program:
Professional baccalaureate: TMA (Technicien Menuisier Agenceur)

Professional baccalaureate TCB (Technicien Constructeur Bois)
Musiques démesurées is an annual festival for contemporary and experimental music held in Clermont-Ferrand since 1999.
The salle Gilbert-Gaillard located in the historic heart of Clermont-Ferrand, is a multi-disciplinary exhibition space which, since 2014, organizes temporary exhibitions.
Edit