Urban and Landscape Composition
Edit
The artistic residency of Nadine Schütz focuses on the integration of acoustic qualities and sound compositions within urban and landscape projects. Since 2018, this work has been organized around different scenarios, including the Place de La Défense where Schütz worked in collaboration with a landscape-urbanist team, the Grandes-Serres de Pantin a historical industrial site where Schütz works with a series of artworks reminiscent of the industrial sound memory of the location, and more recently, the creation of "Acoustic Niches" on the square in front of the Tribunal de Grande Instance, a prize-winning project in the 2019 Participatory Budget of the City of Paris program. Having to compose from, with, and in the real world, a condition inherent to this type of project, Schütz questions the application of ambiences and impulse responses (IR) recorded in High Order Ambisonics (HOA) format, as well as the associated spatialization tools, during the different stages of her artistic projects.

These recordings and measurements make it possible to reconstruct in the studio a compositional environment that reflects the key features of the existing sound environment of the site where the work is to be performed. They also enable us to simulate the integration of new sound sources in this same context. The recordings also provide a basis for the creation of auditory models that play the role of a dream-like guideline (Leitbild) for the creation of the sound material, taking into account the technical constraints of the site and the device to be set up. IRCAM's Sound Design and Perception team is involved in the analysis of the sound data of the places linking acoustic and semantic aspects as well as in the development of a longitudinal evaluation approach, accompanying the creation, the delivery, and the early years of the installation's life.
These studies are extended by a collaborative effort with IRCAM's Sound Systems and Signals: Audio/Acoustics, InstruMents team on the complementarity of physical and perceptual modeling approaches, notably for the prefiguration of creation projects and for the production of sound content. This research also involves the Sound Design and Perception team for the analysis of sound data of places connecting acoustic and semantic aspects.
Teams Involved: Acoustic and Cognitive Spaces, Sound Perception and Design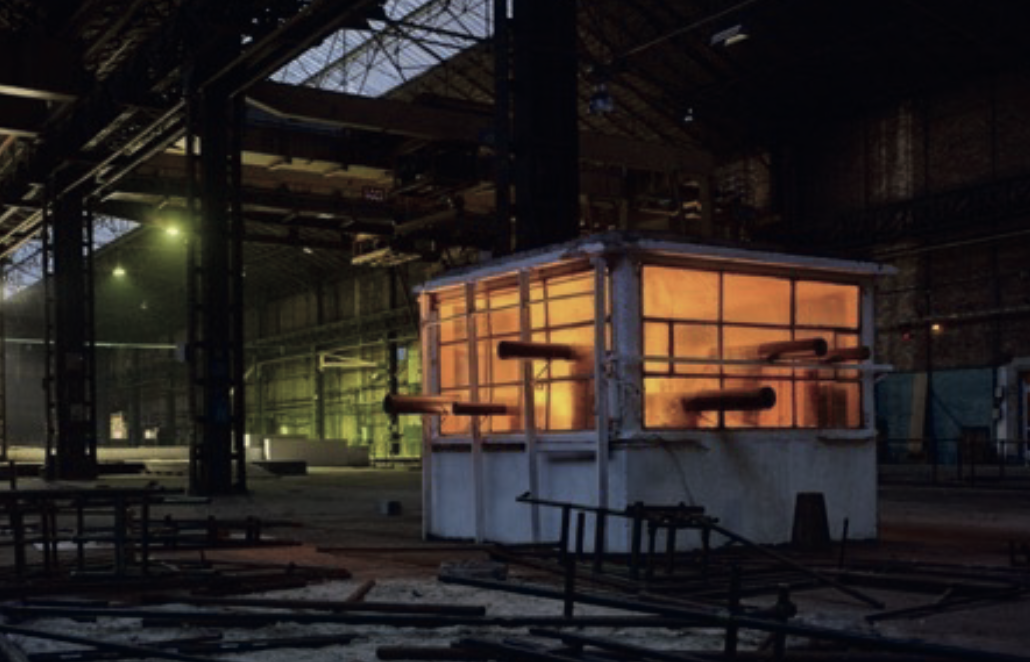 Boîte à tubes #1, sound and plastic work by Nadine Schütz (2021). This is a sound archive of the historical industrial activity of the venue resulting from the recording and acoustic measurements carried out at the Grandes Serres de Pantin. The electroacoustic device, housed in an existing control hut located in the center of the large historic hall, consists of transducers inserted in tubes of different dimensions responding to a perfect chord (A - C - E). Photo credit: Alain Bublex's office.
Edit