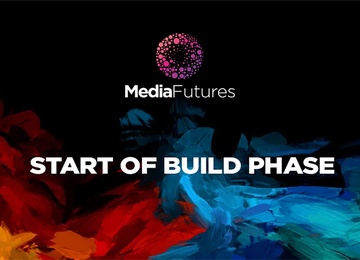 MediaFutures, the European data innovation hub bringing together startups, SMEs and artists to solve challenges in the media industry, has announced beginning of April 24 additional projects to join its startup and artist support programmes. The MediaFutures programme has three programmes: 'Artists for Media', an artist residency, 'Startups for Citizens', a startup accelerator, and 'Startup meets Artist', a unique programme that supports artists and startups to work together on one project.
The projects on the 'Startups for Citizens' and 'Startup meets Artist' tracks had one month and up to €5,000 to refine their idea. At the end of April, they then had to pitch their idea to a panel of judges from the MediaFutures consortium to win a place on the next stage of the programme.
We're excited to announce the following projects will progress to the next phase: the BUILD stage.
Startups and artists will receive equity free funding of up to €80,000 to tackle misinformation using data. Projects receive funding, but also mentoring and training to develop innovative ideas to tackle misinformation using data.

Artists for Media
The following projects join the artist residency programme:
Edit Wars is an interactive project from four data journalists and artists in Georgia and Germany. Their work analyses media publications accompanying the growing militarization and manipulation of mass consciousness in Russia, and addresses the use of aggressive narratives in the government-controlled media that isolate public perception from the real state of affairs.
How many heartbeats to send a love email? is an artwork by artist Kasia Molga, which offers a new narrative about energy consumption and digital data through an interactive experience engaging our own body energy. This artwork intends to create awareness on digital pollution caused by infobesity and fake news, and to question our intimate relationship with online data.
Invisible Voice is an artist-led project by Mark Farid, creating a free browser plugin empowering individuals to make informed decisions about the websites and companies they use. A browser button, when clicked, will open a pop-up, including: the owners, parent company, any affiliated companies, political leanings, revenue, assets, employee numbers, inclusivity and diversity statistics, environmental practise, cheap labour, and more information on the company' practice.
Synthetic Identity Speculations is a participatory artistic research project from Michael Wallinger and Blaukind, that monitors individual synergy effects of social network algorithms and their impact on body images. The research will begin by exploring the potentials of synthetic data and data scraping to trace and cross-reference the impact of algorithmic agency on aesthetics, iconography, choreography and authenticity.
The more the better (two truths and a lie) is a multimedia installation by Hungarian-American artist Mihály Kornai exploring the relationship between foreign languages, mother tongues and trustworthiness. Combining experimental documentary, video art, spatial audio, and assemblage, the 100-channel and 100-language installation uses the children's game of 'two truths and a lie' to blend truth and fiction beyond the point of discernibility.

Startup meets Artist
The following projects will go on the next phase of the collaboration between artists and startups:
Doppelgänger is a collaboration between documentarist Michael Madsen and deep tech company Kaspar, targeting issues of mass surveillance, specifically CCTV systems and current GDPR regulations across Europe. Doppelgänger aims to draw into question the neutrality and trustworthiness of images recorded by a machine in an age where deep fake technology is widespread.
MUMIDIS is an open online space by Ukrainian research collaboration uTrigg designed to educate people about methods of brainwashing with disinformation. Using realistic visuals (a 3D city) and audial (sonic art) experiences, it will engage people in a gamified way to guess false and trustful news, with emotion AI technology, to measure and compare the emotions of readers while they consume trustworthy or fake news.
The Oracle Network is an artwork by a team composed of one full-stack developer, one artificial intelligence researcher, a visual artist with a background in philosophy and anthropology and one game artist. It begins with urban augmented reality (AR) art, spread around the city that leads, like a treasure hunt, to the Central Hub where visitors interact with artificial intelligence art installations, which gradually introduce the viewer into the abstract tech space of fake media.
Time-lapse Migration is a digital tool from startup La Tempesta and artist team Varvara&Mar, to counter misinformation and disinformation on the refugee phenomenon in Europe, by giving a wider context and different lights on the migration fluxes, their motivations, and problems, but also past episodes of forced migration in Europe and their contributions to European culture. The idea is to translate the refugee's stories into visual language using AI.

Startup for Citizens
The following projects will go on the next phase the startup accelerator programme:
Citizens Economy Dashboard comes from the UK charity Economy, that puts communities at the heart of making sense of economics. They will employ participatory methods to work with the public to re-envision the way economic data is reported in the UK. The project will hold space to challenge what data is considered 'important' and explore how we contextualise its relevance to people's lives. 
Factiverse is a B2B tool with a focus on fact-checking and credibility. It will equip journalists and content creators with patented AI-driven solutions that help them to do their best work faster and prevent the spread of misinformation. It provides automated detection of misinformation and a credibility check for any online information by using cutting-edge Artificial Intelligence and Natural Language Processing.
Ochi is an app by Ukrainian science media platform Kunsht, that turns screen time into learning media-literacy time. There are an array of games and tests on topics like hate speech, echo chambers, fakes, work of algorithms, gatekeepers, trolling, stereotypes, cognitive biases, and more. All alongside a personal dinosaur in augmented reality, sustained by regular involvement in the app which develops together with the child's knowledge.
For more information about each project, please visit: https://mediafutures.eu/projects/
To read about all 24 projects that went through the first phase: https://mediafutures.eu/all-projects/
And for information about the 1st cohort projects, artists and start-ups, please visit: https://mediafutures.eu/projects/1st-cohort-projects/

Alexandra Garatzogianni, Coordinator of MediaFutures, Head of Knowledge and Technology Transfer at TIB and Coordinator of EU Projects at Leibniz University of Hannover, said:
"In a world of increasing complexity and tension, we are reminded, once more, of the significance of access to factual information that would enable us to make the appropriate and informed decisions. At MediaFutures, we are proud and thrilled to welcome our second cohort. Our cohorts are the stars of our programme, and we are looking forward to seeing all teams grow and thrive via our MediaFutures acceleration and residencies."
Igor Idareta from Zabala and coordinator of the MediaFutures Open Calls adds:
"I'm happy to see that the interest of applicants on the 2nd Open Call has even increased in relation to the first one, especially in our more challenging track that pursues the close collaboration between Startups and Artist (SmA). The other relevant fact has been the high quality of the proposals, especially on the single Startup track (SfC) where just half of the proposals that surpassed the thresholds have been selected. We have high expectations on the impact of these initiatives on solving disinformation and misinformation challenges."
Tara Lee, Senior Consultant at the Open Data Institute and in charge of coordinating the evaluation for the 2nd Open Call proposals, adds:
"Reading this year's applications has been a rewarding experience, with lots of innovative and inspiring ideas to tackle the ever present and growing challenges of misinformation and disinformation that we face as a society. I'm excited to see how these ideas develop through the 6 month residencies, and the impacts they can have in our communities. A special thanks goes to our external judges that joined our consortium's evaluation process to add a more diverse range of experience and expertise. They brought fresh insights which I believe will help us support the applicants better over this year."
MediaFutures will launch its 3rd Open Call in autumn, 2022. For more information on the programme, visit the MediaFutures website.
The MediaFutures project has received funding from the European Union's Horizon 2020 research and innovation programme under grant agreement No 951962.
Edit