MediaFutures will support innovative solutions that help people engage with quality journalism, science education and democratic processes
Successful startups, SMEs and artists will also receive expert mentoring and investment opportunities during the six month accelerator and residency programmes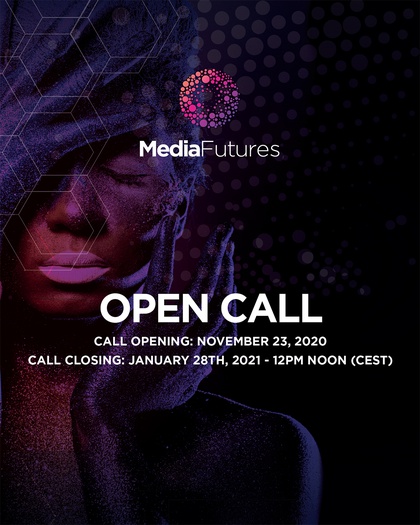 MediaFutures, a new data innovation hub bringing together startups, SMEs and artists to solve challenges in the media industry, has announced that applications are open for its first accelerator and residency programmes. Startups, SMEs and artists can now apply to become part of the European-funded project.
Over the next three years, MediaFutures will support 51 startups and SMEs, and 43 artists across three Open Calls for applications, distributing a total amount of €2.5 million. Successful applicants will receive funding, mentoring and training.
The three-year project is delivered by a consortium of 10 organisations from six European countries:  Leibniz University Hannover (Coordinator), King's College London, Institute for Research and Coordination in Acoustics/Music (IRCAM) Centre Pompidou, LUISS University, Zabala Innovation Consulting, Next Media Accelerator, Eurecat Technology Centre of Catalonia, Open Data Institute, DEN Institute and KU Leuven. It is funded by the European Commission under the Horizon 2020 framework, Big Data Innovation Hubs programme. MediaFutures is part of the S+T+ARTS ecosystem.

For the first call for applications, startups and artists can now apply for equity free funding of up to €80,000 to tackle misinformation about COVID-19 using data. Applications are opening for its first cohort, which will begin the programme in April 2021. Startups, SMEs and artists have until 28 January 2021 to submit an application.
MediaFutures has three programme tracks open for applications: 
Artists for Media - a six month Residency programme for artists with an innovative concept to explore data and technology, and its impact on individuals and society
Startups for Citizens - a six month Accelerator programme for startups to build a product or service that encourages novel, meaningful ways to engage with media content
Startup meets Artist - a six month mixed Residency and Accelerator support programme for teams of startups and artists to collaboratively develop new ideas around data technology and the arts
Startups, SMEs and artists are invited to apply with solutions to one of four Challenges, three of which focus on respond to misinformation around the coronavirus pandemic:
Viral Complexity - accounting for the complexity of coronavirus through data literacy
Building Bridges - reintegrating society by bridging communities that have been fragmented by responses to coronavirus
The New Media-tors - reimagining and rebuilding the role of mediators to tackle misinformation around coronavirus
Open Challenge - for projects that address issues around misinformation 

Elena Simperl, Professor of Computer Science at King's College London, said: 
"The coronavirus pandemic highlights the urgent need to tackle misinformation. MediaFutures takes a unique approach by supporting both startups and artists, which will help bridge the gap between technological innovation and the media industry.  I'm looking forward to seeing the response to the first Open Call, which I'm confident will once again show how the data economy in Europe is flourishing."
Hugues Vinet, IRCAM's Director of Innovation and Research Means, said:
"IRCAM is pleased to participate in this pilot project at the European level. IRCAM provides its expertise in this project that addresses important societal and economic issues related to information processing and access in an extension of the STARTS Residencies program on technological innovation processes involving artists. MediaFutures' approach—organizing the joint involvement of startups and artists around large informational databases on a large scale—is highly original and likely to contribute significantly to the renewal of the media sector".
Edit