Committed to innovative cultural and social development alongside the Hauts-de-Seine department and the Seine Musicale, IRCAM shares the ambition of making high-quality culture accessible to all. Together with the Cube, IRCAM is an active partner in the establishment of SeineLab, which offers a variety of workshops on sound and digital technology.
SeineLab is a venue to discover emerging artists and works in progress. In addition, SeineLab and its partners organize workshops for young people ( from the age of 6 ) and families on artificial intelligence, sound processing, and sound design. The public will be able to create the sound identity of a character or an object, explore the world of machines by inventing a Bestio-robot, build an unexpected musical instrument, learn about binaural production to create a 3D environment, an immersive soundscape, or a musical piece.

The first IRCAM creative workshops at SeineLab will be held in October!
7-12 years old
"1001 Voices - Make a Bestio-Robot"
October 5-7, 2022, reservations required
The "Bestio-Robot" workshop is an opportunity to explore the world of machines that speak and make us speak. From the good old microphone to the latest artificial intelligence technologies, children will be invited to use their voices and invent their own Bestio-Robot through writing games that will most certainly not involve either paper nor pens!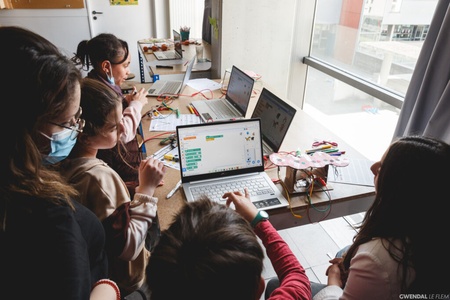 11-15 years old
"Words & Sounds"
October 19-December 14, 2022, reservations required
Totally new, the workshop "Words & Sounds" examines how to analyze a sound in order to create the sonic identity of a character or an object. Composing music to heighten the suspense of a movie, creating the sound of an apple or an electric car... These are the challenges presented in this workshop.

For everyone: IRCAM offers new ways to access musical creation, through literature and 3D sound, or through images and interactive movement
15 years old and up
Listen to "Musique-Fictions" with Headphones
Every Wednesday, free access
Every Wednesday afternoon, the Musiques-Fictions will combine a contemporary text, a musical creation, and the collective experience of immersive listening. Seated in comfortable deckchairs, with headphones offering a binaural sound which renders the sounds perceived in 3 dimensions, your imagination will be set free by the sonic environment.
For everyone
TACT: Interactive Installation
Artists-in-residence November 2022-March 2023
New creation available to the public beginning March 15, 2023, no reservations required
TACT is an interactive musical creation device installed at La Seine Musicale for a artist's residency with the composer Meryll Ampe, the graphic designer Mona Hackel, the designer Zoé Aegerter, and a class of high school students from the Hauts-de-Seine. TACT is a graphic palette that lets you explore a photograph or a graphical creation, modifying the the visual and the musical environment. Each gesture on the touch screen triggers a visual and sonic transformation and leading to the performance of an open score, performed by you.
Discover the full program and workshop registration details on laseinemusicale.com

Edit