SPAT Revolution: IRCAM and Flux:: new software
Edit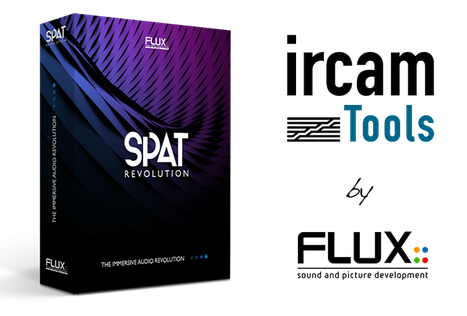 SPAT Revolution, the most comprehensive real-time 3D-audio mixing engine ever designed, provide artists, sound-designers and sound-engineers the possibility to control the position of audio-sources in a three-dimensional environment, add room effects, send the result to a loudspeaker setup or a pair of normal stereophonic headphones, or export the result as audio stems to use in any other audio engine.

With a solid modular object based concept, the ability to specify and automate the spatialization parameters independently of the output format, support for different types of hardware and software inputs/outputs with network support for audio and automation (using Open Sound Control), innovative 3D-audio signal visualization modes and precise signal level control, it provides a flexible, efficient and creatively inspiring working environment designed to preserve emphasis on simplicity and ergonomics.
Spat Revolution is the result of a successful partnership between Flux:: and IRCAM - Team Acoustic and Cognitive Spaces, created to make decades of groundbreaking research performed at IRCAM available to the world in a format adapted for the workflow in the digital music and audio industry!
Created for audio professionals, within the fields of audio mixing, post-production, sound design, VR-engine audio, computer game audio, live and installation sound, SPAT Revolution is designed to easily integrate with various workflows using standard hardware audio interfaces, network audio, and a software audio gateway plug-in to communicate with all major DAWs (AAX, AU, VST).
Multiple 3D-spatialization technologies (VBAP, DBAP, HOA, binaural, etc) can be combined and mixes in different formats rendered simultaneously. Control and Automation of Sources, Rooms and Masters from all major DAWs is provided using plug-ins (AAX, AU, VST) (Experimental), and control from other devices such as digital mixing desks and other controllers is supported using Open Sound Control (OSC).


Application Fields

Composition
Film and Music
Post-production
Research & Development
Virtual Reality
Sound Design
SPAT Revolution can be used in several settings:
Concerts, sound installations, and spatialization in real-time. The composer can connect each musical event or each sound element in the score with a specific position in the spatial environment. SPAT Revolution can be controlled via a sequencer, can follow a score, or can be set using an algorithm.
Mixing and post-production. A spatialization module can be associated with each audio input/output, buss, or other auxiliary.
Virtual Reality. The spatial audio component plays an important role in creating the feeling of a presence and immersion in VR applications or in interactive installations. For these applications, the binaural rendering using SPAT Revolution (using headphones) is particularly appropriate. This binaural rendering is even more convincing if the engine is associated with a motion following system or motion control.


Award
November 9, 2017: SPAT Revolution wins the public award @SATIS in Paris in the postproduction category.


Discover in video
Edit
---