Continuum, augmented sonic dimensions for live performances
Edit
With the launch of the Continuum project (October 2022-September 2025), IRCAM and its partners —the companies Amadeus and Vrtuoz— are paving the way towards a new conception of the production and dissemination of live performances with sound enhancement: a continuum between real and virtual stages, between artists and spectators/viewers/listeners of today, between French technological innovation and cultural productions with innovative formats.
Edit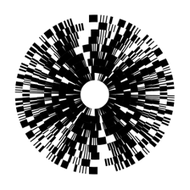 This state-of-the-art technological research program aims to develop a comprehensive production chain, from capture to final playback, in order to create and transmit augmented spatial content to spectators in both a range of shared spaces (theaters, cinemas, public or private spaces) and in individual listening situations in virtual reality or binaural rendering with headphones.
Continuum supports and develops research conducted at IRCAM on new forms of 3D spatial sound capture and broadcasting, making it possible to develop and popularize tools for the production and broadcasting of immersive audio content through their marketing.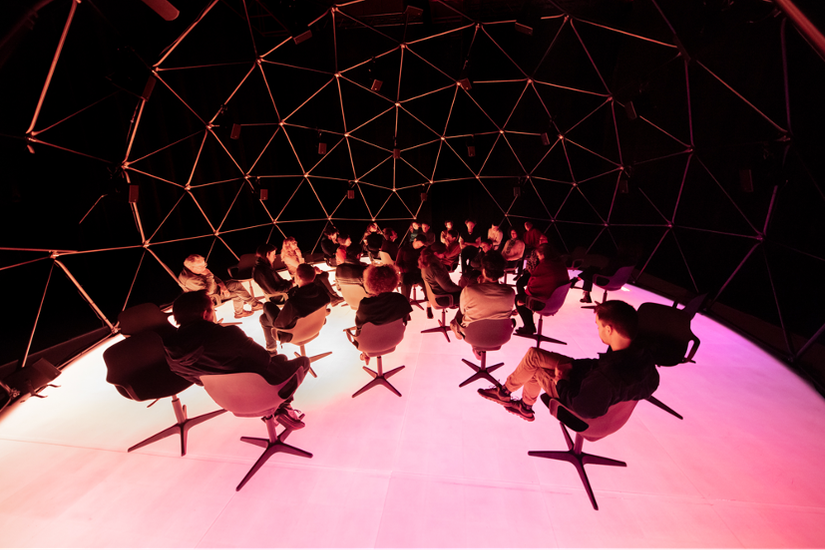 IRCAM's ambisonic dome © Quentin Chevrier
« With more than 40 years of experience in research on sound spatialization for artistic creation, the realization of Continuum, made possible thanks to the support of the France 2030 program, offers IRCAM the opportunity to set a new standard in terms of the quality and use of immersive sound rendering for live performances and to experiment with it in the context of large-scale artistic productions. The participation of the companies Amadeus and Vrtuoz contributes to their democratization for theatrical broadcasting and for individual experiences based on virtual reality devices. »
Hugues Vinet, Director of Innovation and Research Means at IRCAM Continuum Coordinator
« This project is an extension and reinforcement of our historical partnership with IRCAM. We have been working for a long time to design and make available technological tools, mainly intended for creative artists and participants in the performing arts, to compose space, to create immersive experiences, to maximize the coherence between sound and visual images in performance venues, to improve the localization of musicians, actors, singers on stage, or to create virtual acoustic spaces, among others. »
Gaëtan Byk, Owner, CEO, Amadeus S.A.S
« Vrtuoz has the ambition of making immersive content more attractive by focusing on quality and accessibility. The platform works by integrating technologies developed by excellent partners and focuses on curating content and designing a user path that is as simple and intuitive as possible. The Continuum project, in collaboration with IRCAM and Amadeus, will allow our future users, gathered remotely for an event, to share an unparalleled sound experience in terms of dynamism and spatialization. »
Gildas Dussauze, Président, Vrtuoz

Main Technological Innovations of the Project
Individual interactive experience of a live or replay performance using a virtual reality device with high spatial resolution audio rendering through headphones (binaural).
Enhanced immersive experience in a room with multi-speaker systems in HOA (Higher-order Ambisonics) format: optimized simulation of the acoustics of an existing room (hybrid reverberation), modification of the characteristics of the broadcasting room (active acoustics), design of new loudspeakers adapted to these new broadcast configurations.

Artistic Productions
Continuum's technological advances are presented to the public through a series of artistic productions : 
2023 

| 
Électro-Odyssée
Music and video show by Murcof (Fernando Corona) and Simon Geilfus, Twin Color, with an augmented experience.
Premiere in the Espace de projection at IRCAM November 29 & 30, 2023
followed by a tour in France and Europe (Sonar Barcelona).
Remote access using virtual reality through the Vrtuoz platform

2024 

| 
Janus
Concert with the Pages and the Chantres from the Centre de Musique Baroque de Versailles for a program bringing together early music and music of today in an enhanced and variable acoustic. The active acoustics transform the perception of the place, as much for the musicians as for the audience. This element is perceptible in the meeting of different instruments and practices—baroque and contemporary—and in particular concerning the voice.
Premieres in the Espace de projection at IRCAM in April 2024
And in the Chapelle royale at the Château de Versailles in June 2024

2025 

| 
In situ Royaumont
Creation of a virtual acoustic for the reconstitution of the perimeter of the Royaumont Cistercian Abbey, in the open air, as part of a commissioned installation by Francesco Filidei, composer and organist.
Premiere in the Royaumont Cistercian Abbey in 2025

La création du dôme ambisonique virtuel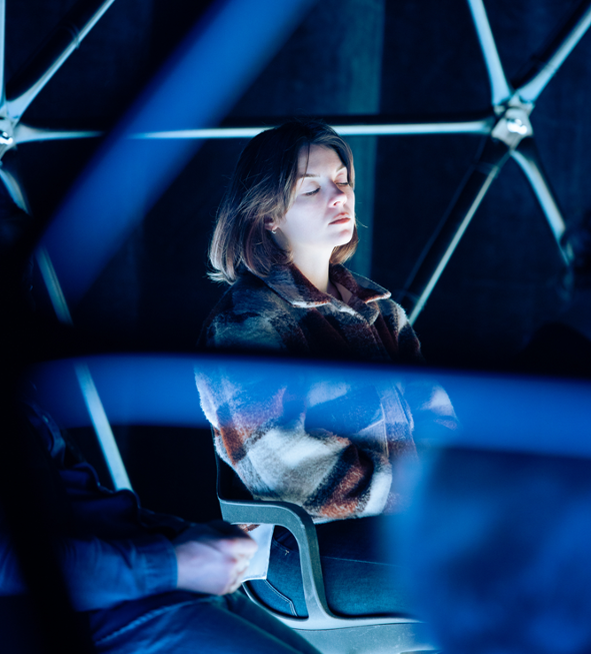 IRCAM's ambisonic dome in 2023 © Quentin Chevrier
In keeping with Continuum, Vrtuoz will model IRCAM's ambisonic dome, with the help of scientific and sound engineering teams to offer artists a new virtual space dedicated to experimentation and 3D spatialization tools. This digital twin, accessible to a wider audience, will further extend the link between real and virtual stages.

The Continuum Project Partners

For more than thirty years, Amadeus has designed, manufactured and marketed a wide range of products for the diffusion, processing and spatialization of sound, combining high technology, elegance, and emotion.
Founded in 1992, Amadeus has become an indisputable reference for live performance professionals. With close ties to the largest national and international musical, theatrical, and scientific institutions, Amadeus counts among its historical French clients the Théâtre National de Chaillot, the Festival d'Avignon, the Opéra de Lyon and the Philharmonie de Paris, among others. The development and manufacturing of the products have always been carried out at Amadeus' premises, based in France

Vrtuoz is an open metaverse dedicated to cultural venues, entertainment producers, and artists. It offers several types of virtual spaces backed by a ticketing service: virtual stages to host immersive works and virtual showrooms to exhibit NFTs. Vrtuoz provides cultural actors with a distribution platform to host, distribute, and monetize all types of original digital artistic content in a 3D spatialized environment, accessible remotely and without technological constraints. The platform makes it possible to generate a new source of revenue linked to the exploitation of digital content with a wider audience (younger, less downtown, more international). In terms of use, the Vrtuoz platform is simple and intuitive, accessible on any type of equipment (with or without a VR headset, on PC and soon on mobile and ios) via an application, with free access or by purchasing a ticket. It allows its users to access inaccessible sites and to (re)live and share immersive experiences with friends, within a community. Vrtuoz accompanies the digitalization of places from the design of their virtual space to the constitution of their catalog of augmented works. From a personalized space (digital twin), the venue will be able to autonomously host content and extend its activities to a more captive remote audience.
Supported by the French government as part of the "Augmented Experience of Live Performance"program of the cultural and creative industries (CCI) sector of France 2030, operated by Caisse des Dépôts
Edit