Workshop: Movement Design and Learning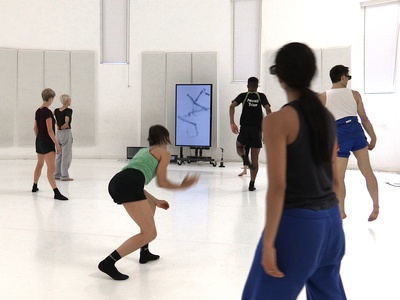 IRCAM is hosting workshop, open to the public, on gesture interaction, after the first year of the research project ELEMENT supported by the ANR (Agence nationale de recherche - French national research agency). The team will present the latest results and devices concerning "gesture design" and learning movements in human/machine interactions.
Organization
Frederic Bevilacqua (coordinator), head of the Sound Music Movement Interaction team, IRCAM-STMS, Baptiste Caramiaux, LRI université Paris Saclay, Sarah Fdili Alaoui, LRI université Paris Saclay and Jules Françoise LIMSI-CNRS université Paris Saclay
In partnership with LIMSI-CNRS, LRI, and Université Paris Saclay.
---
Programme
10h - 13h

Présentation, démonstrations, discussions


10h00

Frédéric Bevilacqua et Abby Wanyu Liy (Ircam-STMS)
- Les systèmes interactifs basés sur le mouvement : les enjeux du projet ANR ELEMENT
- Démo : système CoMo, associer des sons et mouvements avec des smartphones

10h40

Sarah Fdili Alaoui et Jean-Philippe Rivière (LRI-CNRS, université Paris-Saclay, Inria)
- Les systèmes à support de créativité dans la danse
- Démo : système MoveOn, planifier son apprentissage du mouvement dansé sur vidéo

11h20

Pause café


11h40


Baptiste Caramiaux et Téo Sanchez (LRI-CNRS université Paris- Saclay, Inria)
- Co-Apprentissage humain - machine
- Focus sur « machine teaching » et démo

12h20

Jules Françoise (LRI-CNRS université Paris-Saclay)
- Démo : le système CODA de live coding pour le mapping mouvement-son

14h30 - 17h

Conférences et débats

14h30 - 17h

Interaction humain-machine basée sur le mouvement : pourquoi ? pour qui ? comment ?
Avec Manuela de Barros (université Paris-8), Patricia Ribault (Humboldt-Universität zu Berlin et École nationale des beauxarts
de Paris) et Michel-Ange Amorim (université Paris-Sud)
Suivi d'une discussion/table ronde