Day of Study - The Writings of  François Decarsin
This day of study is dedicated to François Decarsin (1950-2017) whose research was pivotal in the world of musicology during the decades that marked the passage from the 20th to the 21st century.
The approach is meant to be a commentary, analysis, interpretation, and extension of the scientific positions found in his published works. Special attention will be paid to the essay La musique, architecture du temps (2001), exploring the multiplicity and complexity of the inclusion of musical works in time, as well as his final work: La modernité en question, deux siècles d'invention musicale 1781-1972 (2010), the culmination of the scrutation of what he calls the "généalogie du nouveau".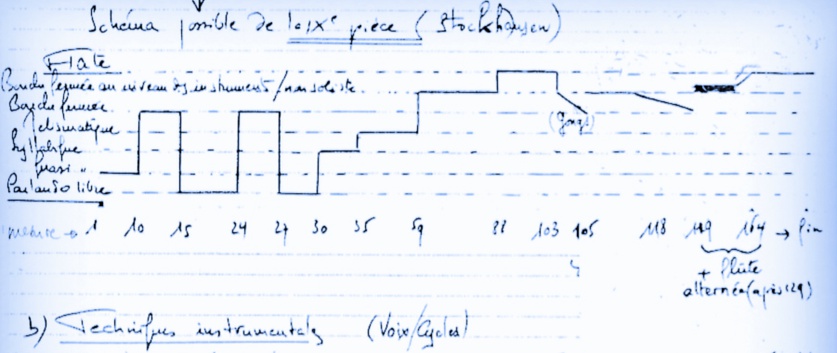 Writing of François Decarsin
---
Program
Morning
9am | Welcome
9.20am | Introduction
Nicolas Donin, Florence Fabre, Guy Gosselin, Vincent Tiffon
9.30am | Expressing Meaning in Art
Guy Gosselin (IReMus, Paris)
9.50am | Liking Liszt When Your Name Is François. A Look Back at a Passionate Impatience
Bruno Moysan (IReMus et CHCSC-UVSQ)
10.10am | The Question of Modernity
Antoine Bonnet (Université de Rennes 2)
10.50am | Neoclassicism and Postmodernity, F.-B. Mâche
Étienne Kippelen (Aix-Marseille Université)
11.10am | The Movement of Modernity, or the Modernity of Movement (Schubert as a traveler)
Jacques Amblard (Aix-Marseille Université)
11.30am | Panel Discussion

Afternoon
2pm | "The Antique Melody" in Tristan
Florence Fabre (Université d'Artois)
2.20pm | For Atonal Energy – François Decarsin's Thoughts on the Writings of Arnold Schoenberg
Jean-Paul Olive (Université Paris 8)
2.40pm | The Composer at his Tomb or Requiem canticles Mirrored with the Symphonies
Jean-Michel Court (Université Toulouse-Jean Jaurès)
3.20pm | Dialogue Between Composer and Musicologist, In Freundschaft : Decarsin mit Stockhausen
Vincent Tiffon (Université Lille)
3.40pm | Temporality and Structure
Marta Grabocz (Université de Strasbourg)
4pm | Music, the Architecture of Time
Pierre Michel (Université de Strasbourg)
4.20pm | Final Panel Discussion