IRCAM Talks #004 - Fragments of Extinction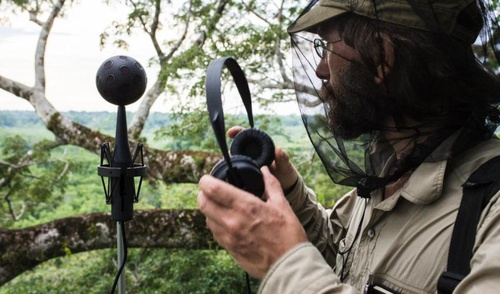 Using advanced 3D recording technologies, tested in the deep equatorial forest, the eco-composer David Monacchi endeavors to gather, study, and play soundscapes of a still-intact biodiversity in the goal of conservation with his project Fragments de l'extinction.
This artistic research residency, organized by the Acoustic and Cognitive Spaces team at IRCAM and ZKM, examines the data collected during recordings in situ, in the virgin forests of the Amazon and Borneo. It explores the sonic complexity of these ecosystems. The aim is to demonstrate how, using a recording of places that are still preserved, we can extract data used for bioacoustics and ecological explorations while building an alphabet for a new "musical" language based on the analysis and re-composition of a veritable ecosystem.
This seminar presents the composer's long-time project.
David Monacchi (Italy) is a music fellow at the Cité internationale des arts, in partnership with IRCAM and Centre d'art et de technologie des médias de Karlsruhe (ZKM).
---
IRCAM Talks
This new conference series lets the audience explore the creative process behind a work, discover the latest experiments in sound design, and talk with a range of actors in the musical research field. Sound professionals, artists, scientists, makers, students: don't miss this new event!