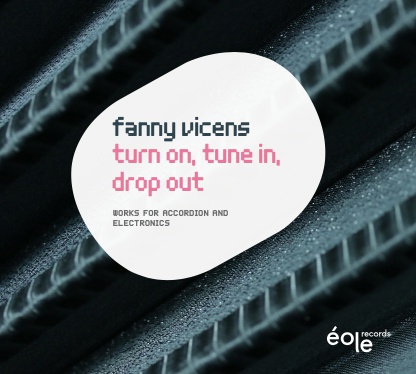 Five years after Schrift, a disc of seven contemporary works for solo accordion released on the Stradivarius label in 2016, Fanny Vicens gives her instrument an electric shock by recording seven new works, this time bringing together the accordion (and the microtonal accordion) with (and the XAMP microtonal accordion) electronics: Turn On, Tune In, Drop Out. This new album features two works created during Cursus 2014: Natura Morta by Carlos de Castellarnau and Instant Suspendu by Mayu Mirano.
The accordion will be duplicated, increased, multiplied by the power of electronics. But most of all, the accordion will be examined, analyzed, x-rayed: placing the accordion with electronics, it is to put it in the light of its double and consequently to reveal its sonority, to put its entrails in vibration and to affirm its hidden nature. The sonorities obtained from such a mixture will be those of in-between worlds, sometimes known, familiar, even reassuring, and suddenly strange, disconcerting or frightening. The microtonal accordion XAMP, exacerbates the sound potential of the accordion, further blurring the boundaries between its acoustic and electronic sound.
The challenge of this recording is capturing the movements, the energetic accents, and the poetry of the electronic connections. Fanny Vicens is experienced in this repertoire, and transfers the scenic power she is known for into a unique recorded auditory experience, unique in the vigor of their interpretation, and also unique as the works are recorded here for the first time (six of the seven pieces on this recording were written for her).


Fanny Vicens sur scène © DR
A sonic journey, where the virtuosity of the performer is doubled by her electronic mirror. To open the ball, Cantiga, a piece by Aurelio Edler-Copes with medieval accents, which mixes Alphonse X's canticles with the sound universe of electronic music. The atmosphere becomes electro-playful in Natura Morta, which will make the ogresque power of the accordion be heard. The electronics are sensual and intimate in Instant Suspendu by Mayu Hirano. The journey continues in Russia, in Ki-Ka-Pou with the echoes of a Russian song and a lost mining city, still inhabited by ghostly presences. It is a metamorphosed Catalan lullaby that emerges in the in the work by Núria Giménez-Comas written especially for this project. An explosion of energy runs through Pierre Jodlowski's Something Out of the Apocalypse. Finally, Alexander Vert's hypnotic piece, set to the rhythm of an Indian mantra, an injunction to this psychedelic listening experience: Turn On, Tune in, Drop Out!

Turn On, Tune In, Drop Out released on November 24th by éOle Records. Produced by éOle Records, coproduced by the association Flashback 66 with the support of the Maison de la Musique Contemporaine and the Centre National de la Musique.

Upcoming concerts
Thursday, December 9 at 7:15pm at the Théâtre La Vignette de Montpellier
Friday, December 10, 7:30pm at the Théâtre Municipal de Perpignan
Edit