Artisticiel: AI Musician and Humans by Bernard Lubat, Gérard Assayag, andMarc Chemillier
Listen to a selection of excerpts from this new book-cd!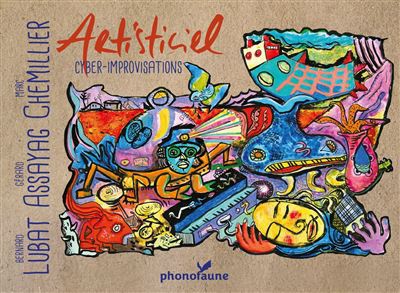 In the Dialogues d'Uzeste collection, the jazz musician Bernard Lubat interacts with musical artificial intelligence systems (AI) created by the Musical Representations team at IRCAM and with their designers: Gérard Assayag (IRCAM-STMS) and Marc Chemillier (CAMS-EHESS).
These musical cyber-improvisations are the result of over a decade of artistic complicity, high-level scientific research (recognized today by the extremely competitive European Research Council Advanced Research Grant: ERC REACH), and all sorts of experiments and developments of a series of software programs that have completely changed the face of musical AI today (Omax, somax, ImproteK, Djazz, DYCI2).
The CD features 3 jazz performances recorded in NewYork, Philadelphia (during the Improtech festivals organized by the authors), and Uzeste in addition to in vitro studio experiments. The 168-page bilingual text includes critical and philosophical apparatus on the issues surrounding artistic creation shared by humans and machines by Bernard Lubat, Gérard Assayag, Marc Chemillier, and George Lewis, a great pioneer in the field.
Released May 28, 2021 by Phonofaune
Artisticel (physical book-CD or available on streaming) is available on all major platforms (qobuz, Amazon Music, deezer, Spotify, youtube, Apple Music), online shops (Fnac, etc), at your local bookshop or record shop.