Since 2017, the Forum Vertigo has held an annual international meeting of scientists and artists, engineers and intellectuals. Vertigo: a zoom in on a vertiginous present. Every year, the Forum presents multidisciplinary events on creation and innovation in music, art, design, and architecture in connection with digital technologies.
"This program is born from the common desire of the Centre Pompidou and IRCAM to create a public dialogue between the artist and the engineer, combining the laboratory and the studio. What are the effects of technological mutations on creation and on our own perception? Often, urban construction sites have a pavilion where visitors can see the imagined future: the Forum Vertigo is the observation point where skills generally divided, are united. The "vertigo" effect evokes techniques used in film: zooming in while pulling the camera back, focusing on our vertiginous present." Frank Madlener, Director of IRCAM.
Connecting Worlds, 2022 Edition
From Wednesday, March 9 to Friday, March 11, 2022, the Forum Vertigo will bring together artists, engineers, researchers and philosophers at IRCAM to discuss the multiple facets of the notion of network in artistic creation, in connection with the opening of the "Réseaux-Mondes" exhibition at the Centre Pompidou.
Previous Editions
New Modalities of Artistic Presence During Covid, 2021 Edition
How to create, produce, and distribute musical creation and live performances today? What new forms of collaborative creation, what original approaches emerged due to sanitary constraints? Artists and programmers provide answers during the fifth edition of the Vertigo Forum.
More information on the event and speakersWatch the presentations

Artificial Intelligence and Artistic Creation, 2020 Edition
In 2020, artists and researchers from various disciplines proposed a review of the state of the art of different fields of creation­—visual arts, architecture, music, dance— in relation to artificial intelligence and questioned its foundations and issues.
More information on the event and speakersWatch the presentations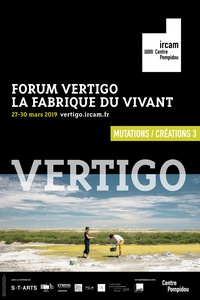 Designing the Living, 2019 Edition
The third edition was focused on the artistic and societal aspects of biotechnologies. The use and the exhibition of the living matter questioned its physicality and technologies of manipulation as well as the ethical stakes which support them.

Coder-Decode the World, 2018 Edition
The 2018 Vertigo Forum provided a state of the art of the use of code and algorithms in different creative fields—visual arts, music, dance, literature, architecture—while exploring the current impact of digital humanities.

Art-innovation, 2017 Edition
In 2017, the first edition brought together architects, designers, musicians and makers, scientists and startups for a week on the themes of architecture and 3D design, simulation and virtual reality, makers, design, and morphogenesis.
Edit