Premiere by the composer Natasha Barrett and artists of OpenEndedGroup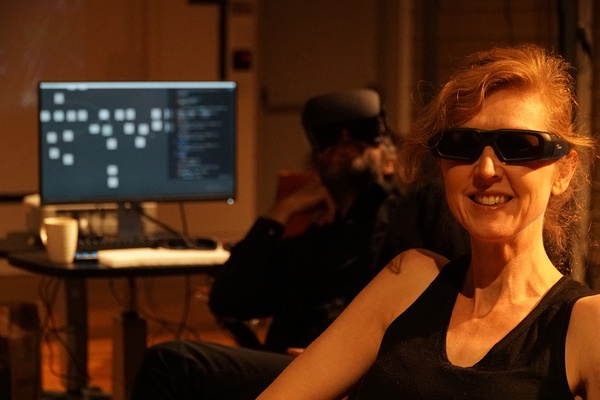 A few points appear, like seeds, on the large three-dimensional screen. From these points lines are born as if drawn by hand, multiplying and intertwining with each other, weaving a perfectly recognizable embossed image. This "pocket of space" dissolves as quickly as it is constructed, with lines fleeing and untangling only to intertwine with each other anew to create a new image, a new "pocket".
In the same vein, the soundtrack that first appears abstract and without any connection to the real world focuses little by little, appearing to come to life in an articulation of the three-dimensional soundscape. If it seems to follow similar evolutions as those in the image, it is not limited, sometimes evoking the image in counterpoint, sometimes distancing itself from it. As the image and sound become more precise, the audience has the feeling of becoming an integral part of a real landscape. 
Image and sound emerge from a generative algorithm. Every scene, every pocket opens up within the landscape it describes, often at the threshold of the city, offered to the whims of nature. The heart of each landscape moves like a sketch in movement, inspired by all that is alive—a bird's wing beating in the sky, a squirrel jumping in a tree, a cat crawling through an alley, a child climbing up the ladder to the top of a slide. Pockets of Space focuses the audience's attention on the pure beauty of these processes that transform the urban landscape, sometimes reducing it to ruins.
The Artistic Issues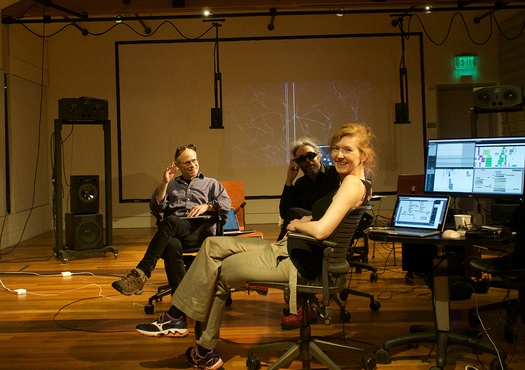 The first issue raised by Pockets of Space is inherent to all collaborations, especially during the beginning stages. During the initial discussions, the composer Natasha Barrett and the two members of OpenEndedGroup—Marc Downie and Paul Kaiser—quickly realized that their unique ways of working were strikingly similar: the raw material captured (images and sound) is painstakingly taken apart or deconstructed down to its basic "bricks" that are then reassembled to build a new object, not without having undergone several analyses, treatments, and transformations, not forgetting the addition of synthesized material.
Each "pocket" in Pockets of Space contains only a part of the information from the raw material (sound and image are sometimes unrelated, taken from two different captures) and each pocket examined individually suggests more than it shows. Occasionally, several pockets join together to create a larger ensemble.
The Technological Issues
The major technological issue in Pockets of Space is a direct consequence of the "audience experience" as the artists imagined it: an experience not only spatialized (given the background of the three artists involved in research on the diffusion of images and sound in 3D, spatialized sound is a given), but also, and above all, interactive. This intention is further complicated by the fact that the installation is presented in two different forms: one is a "concert" version on stage in a hall equipped with High Order Ambisonics (HOA) (in this case, for the premiere, the Grande salle in the Centre Pompidou) and an installation with more "human" dimensions, with an augmented reality mask and binaural headphones.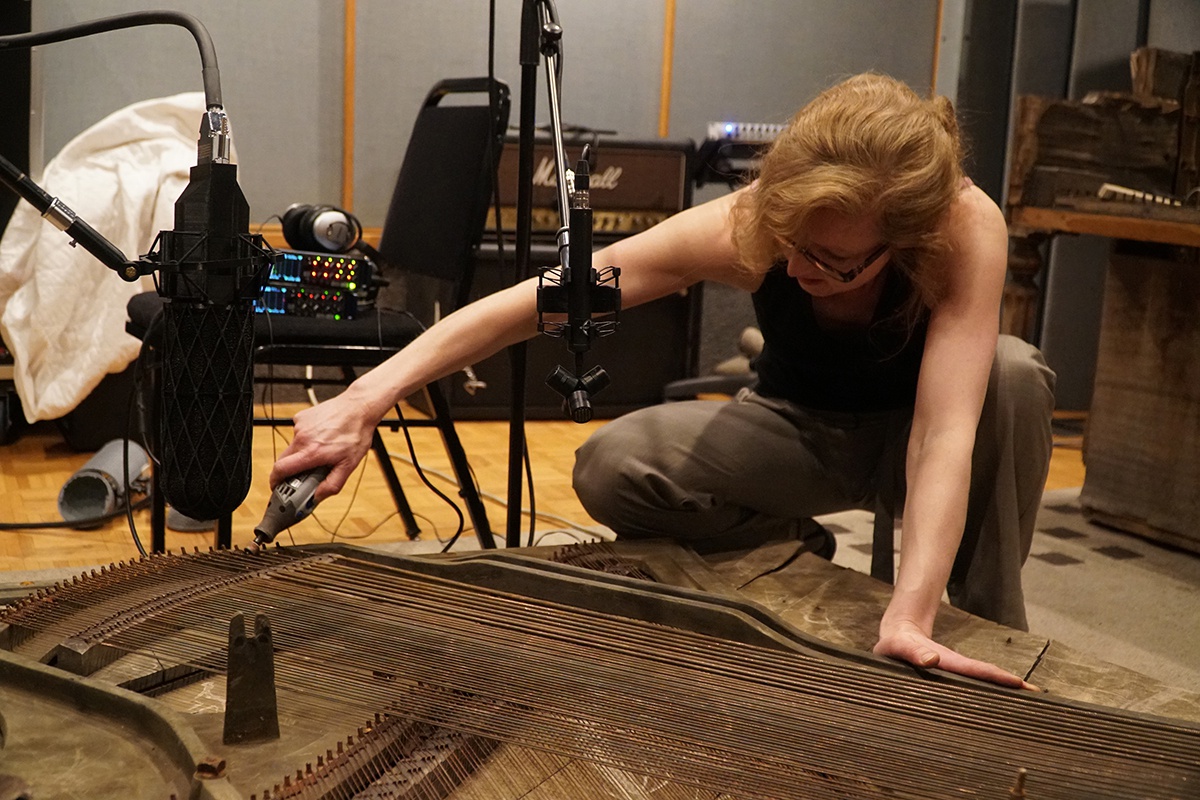 Natasha Barrett recording ambisonic sound sources, CCRMA, Stanford © Fernando Lopez-Lezcano
In Pockets of Space—large or small format—the audience/listener/visitor interacts with the flow of events, its chronology, or its speed, and therefore to change what they see and hear, moving through the space. It was necessary to create interactive functions, with algorithms and spatialization processes in real-time. Given the processing power necessary in real-time for HOA, this was not an easy task.
"And," adds Natasha Barrett, "this process must be able to create good music and a good work of art… It is work I started long before the creation, even before which materials we were going to work with because I can't separate sound spatialization from sound creation. The two are part of a single action."
by Jérémie Szpirglas, journalist and author
Photo 1: Natasha Barrett © Déborah Lopatin
Photo 2: Natasha Barrett, OpenEndedGroup © Déborah Lopatin
---
Natasha Barrett
Natasha Barrett (b. 1972) grew up in a music-loving family of non-musicans, in an environment that included both pop and classical music. When studying at the City Universtiy in London with Denis Smalley, her musical ideas led her to acoustmatic issues...
OpenEndedGroup (Marc Downie & Paul Kaiser)
Their pioneering approach to digital art frequently combines three signature elements: non-photorealistic 3D rendering; the incorporation of body movement by motion-capture and other means; and the autonomy of artworks directed or assisted by artificia...