Improvisation voice and electronics
Edit
The interpretation master classes associate 20th century repertoire and more recent creations in a desire to go beyond historical specializations. They also offer students special access to some of the most important works of mixed music, where the dimension of sound projection is an integral part of the performance.
Educational Advisors: Valérie Philippin, singer, Jean Lochard, computer music designer and professor at IRCAM, Mikhail Malt, researcher and consultant (Musical Representations team)
This workshop is intended for singers of all backgrounds—lyric artists and vocal performers—eager to learn both contemporary vocal languages and computer music. Participants will improvise together in voice/electronic duos and in groups, alternating between the role of an improv singer and an electronic performer.
Through guided improvisation games, participants will progressively test and interact with electronics (transformations, mixes, complex environments), and discover the latest improvisation software developed at IRCAM: OMAX, SOMAX2, and DYCI2.
This workshop is a unique opportunity for participants to develop their vocal language, their knowledge of the sonic worlds offered by electronics, and their creativity through exploration and on-the-fly composition.
Improvisation supports such as texts (from authors or from the students themselves), graphics, video, or other materials are welcome during the work sessions. Valérie Philippin will also propose resources.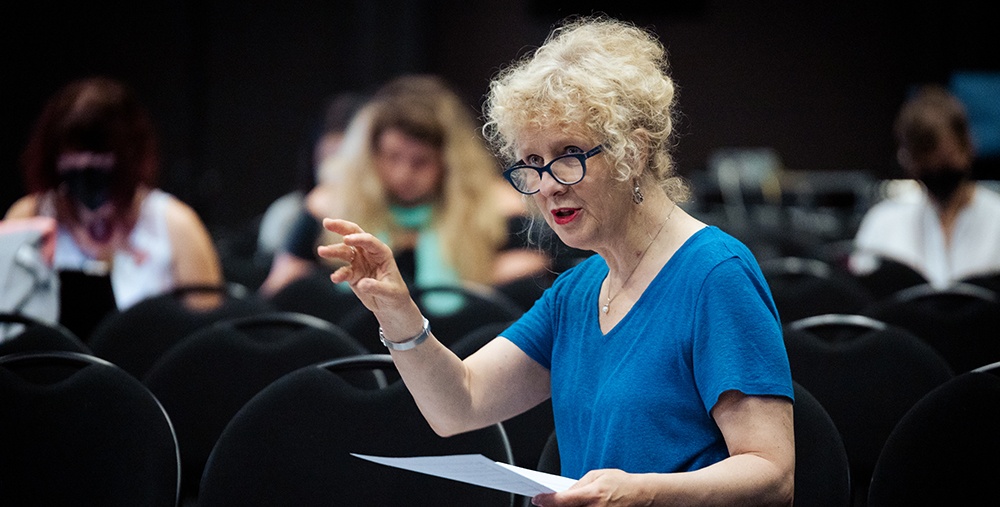 The singer Valérie Philippin during the master class voice and electronics, ManiFeste-2021 © IRCAM- Centre Pompidou, photo © Quentin Chevrier
Applications
Applicants must:
be born after January 1, 1988
not have participated twice before in another ManiFeste Academy workshop
be able to speak and understand English or French
Apply onlineULYSSES Platform
Applications accepted beginning Tuesday, October 4, 2022
Deadline for applications Wednesday, February 22, 4 am CEST
Response sent by email Friday, March 10, 2023
To apply, you must create an account (or use an existing account) on the ULYSSES platform, complete your profile and click on "Apply" from the "MANIFESTE-2023 Voice & Electronics" call page, then:
fill in personal information (name, first name, sex, age, nationality, ID with date of birth, address, cell phone number, face photo that may be used by Ircam for access badges and online photo albums)
write a short biography (800 characters MAXIMUM) which may be used by IRCAM for concert programs
write a short CV (1 page maximum, pdf)
write a letter of motivation explaining why you wish to participate in the master class
present a video (YouTube link or mp4 file) in which you briefly introduce yourself in French or English
present 3 recent performances:

a video (YouTube link or mp4 file) where you perform a 20th or 21st century solo or solo work of "contemporary language". Please attach the pdf score *.
a video (YouTube link or mp4 file) of you performing a "classical" solo or soloist work (before 1920). Please attach the pdf score *.
a video (YouTube link or mp4 file) where you perform an improvised work in solo or in group.
* If you do not come from a classical background, please provide two videos of works of different aesthetics—with or without score—and one video of an improvised work.
Jury
The jury will be composed of the singer Valérie Philippin.
Participation Conditions
Registration fee: 300€
The Academy does not offer any scholarships. The Academy does not cover any expenses incurred for travel or accommodation. Participants must find their own accommodation.
Successful applicants must, under penalty of cancellation of their participation:
pay their registration fees no later than Tuesday, March 28, 2023
participate in an online work session with Valérie Philippin and the IRCAM team during March or April 2023
attend all the rehearsals and classes given as part of the master class
Candidates who do not respect the conditions established by the teaching team, or who are absent during the work session or the master class, even partially, will automatically have their participation revoked without possibility of appeal and without reimbursement of their registration fees.
Registration fees will be refunded if the academy is cancelled due to COVID-19 related measures. However, disruptions in transportation, health recommendations and quarantine, confinement or testing requirements will be the responsibility of the applicant, who is responsible for making arrangements to attend in accordance with COVID-19 measures, both in his or her home country and upon arrival in France.
Edit