FEDORA Award: Vote for « Like flesh »
In January 2022, the Opéra de Lille will present the world premiere of Like flesh, a new multimedia chamber opera. This project has been shortlisted for the FEDORA Opera 2021 Award, which distinguishes the most innovative new opera productions. Vote online and support the Opéra de Lille in this European competition!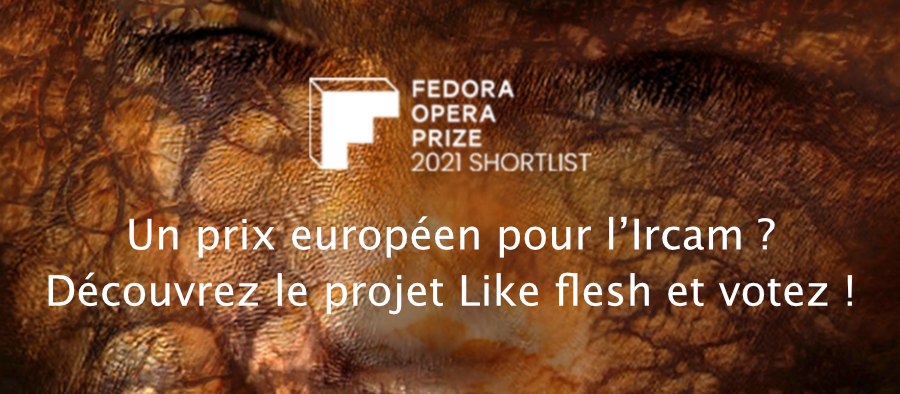 Like flesh summed up
Trapped in an unhappy marriage, a woman mourns the devastation of the forest around her. An unexpected affair provokes an explosive metamorphosis, and she finds perfect release as a tree. But the world is a dangerous place for trees, and deep in the forest a student and a forester lay claim to a body of wood and leaf, one for money and one for love.

Written in fragmented scenes, the narrative, led by three protagonists, is interrupted by poetic monologues from a vocal ensemble representing the forest. For her first opera, the composer Sivan Eldar worked in the IRCAM studios to develop a system that brings together orchestration and spatialization. The music, processed using electronics and sound synthesis, is scored for an amplified chamber ensemble and a distributed array of 64 speakers spread throughout the hall which gradually shift the audience's perception of the space, reflecting the libretto's themes of transformation. The sound diffusion system plays on varying degrees of perception, which can be modulated at different levels—individual, collective, environmental—thus questioning their relationship.
Like flesh is inspired by Ovid's tales of passion, violence, and metamorphosis. But here, metamorphosis is only the beginning of the story, functioning as a powerful and ambiguous metaphor for the body of a survivor of violence, for a queer body that feels a desire that goes beyond traditional gender norms, for a body in transition.
Inspired by ecological models of relationships, Like flesh imagines what relationships could be in a world that still resists plurality of expression. Through the gendered ambiguity of its libretto, the opera delicately explores the spectrum of sexual identity to bring the love stories of opera to a younger generation, more inquisitive and less binary.

What is the FEDORA Award?
The goal of the FEDORA association is to encourage philanthropy and innovation in the fields of opera and ballet in Europe. In order to achieve this goal, the association raises funds for the creation of new productions thanks to the FEDORA Award for opera, ballet, education, and digital.
For each of these 4 awards, innovative projects are pre-selected by Opera Europa, a professional association of opera houses and festivals in Europe. The pre-selected projects are presented to three juries of experts who select the winners of the FEDORA Awards. In addition, the public can vote for other shortlisted projects. The project chosen by the public joins the three other pre-selected projects and goes on to the next step of the competition: a digital crowdfunding campaign with the support of FEDORA.

How do you I vote?
Anyone can vote online. You can vote from February 1st (6PM) through February 26th. Winners for each category will be announced on that date

Artistic Team
Composition Sivan Eldar
Livretto Cordelia Lynn
IRCAM Computer Music Design Augustin Muller
Musical Direction Maxime Pascal
Stage Direction and Set Design  Silvia Costa
Video Francesco D'Abbraccio
Set Design Assistant  Alessio Valmori
Costume Design Laura Dondoli
Lighting Andrea Sanson
With Helena Rasker Woman Tree / contralto, William Dazeley Forester / bass, Juliette Allen Student / soprano, Chorus - The Forest (6 singers)
Ensemble Le Balcon
Commissioned by the Opéra de Lille, Opéra Orchestre national de Montpellier, Opéra national de Lorraine. Produced by Opéra de Lille. An Opéra Orchestre national de Montpellier, Opéra national de Lorraine, IRCAM-Centre Pompidou coproduction. In collaboration with Le Balcon. With the support of enoa and the European Union's Creative Europe program.